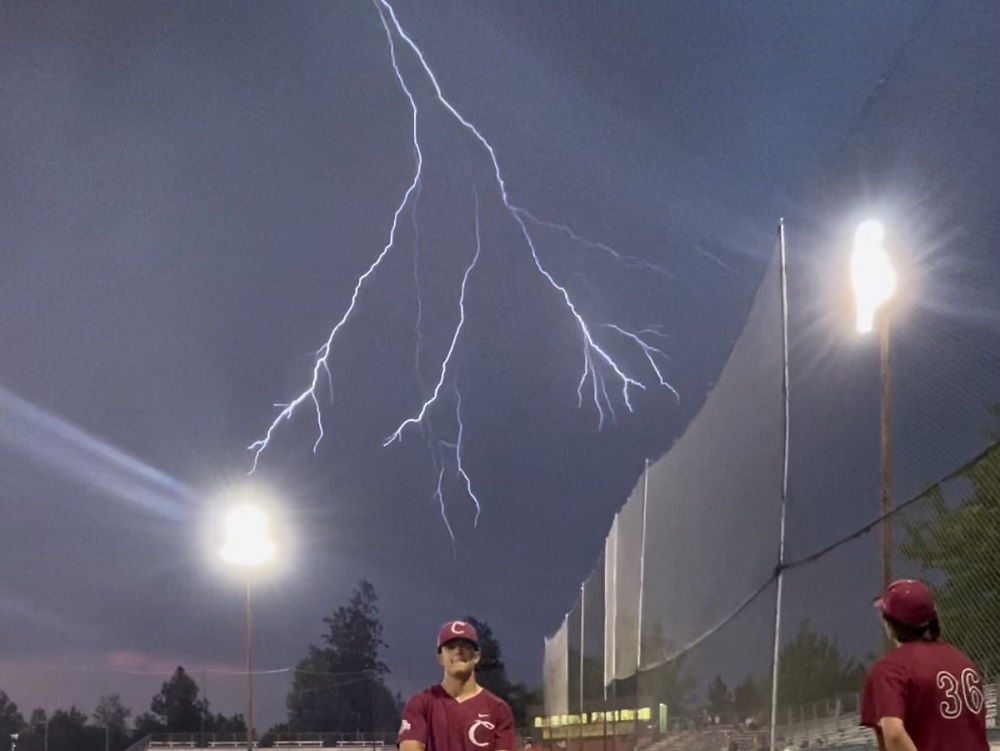 Lightning Delay Leads to Suspended Game
Thursday, July 1, Bend, Ore. – The Corvallis Knights and Bend Elks played deep into Wednesday night and into Thursday morning as a result of a late start due to excessive heat in Central Oregon and later because of a lengthy lightning delay.
At 12:15 am, game two of the series was suspended after 10 innings with the score tied 5-5 because of a lights ordinance.
The contest will resume today at 4:30 pm at Vince Genna Stadium. The series finale start time is set for 6:35 pm.
Corvallis led 2-0 with two outs and the bases empty in the bottom of the third inning when the game was halted due to lightning. Starter Ethan Ross was cruising but did not return after a lengthy delay.
The Knights could not hold leads of 3-0, 4-2 and 5-4 as the Elks battled back to tie the game at 5-5.
Future Oregon State Beaver Travis Bazzana tripled, singled and doubled early to lead the Knights offense. Frosh outfielder Nate Nankil of Cal State Fullerton collected a RBI double and RBI single to help put Corvallis up 3-0. First baseman Kiko Romero of Central Arizona blasted a solo home run for the Knights fourth run.
Corvallis burned through five pitchers, with Ross, Jake Vargas of Cal State Fullerton, Bradley Mullan of Gonzaga, Nate Mendoza of Cal State San Bernardino and Braden Boisvert of Seward County CC all appearing. Mendoza and Boisvert did not allow runs.