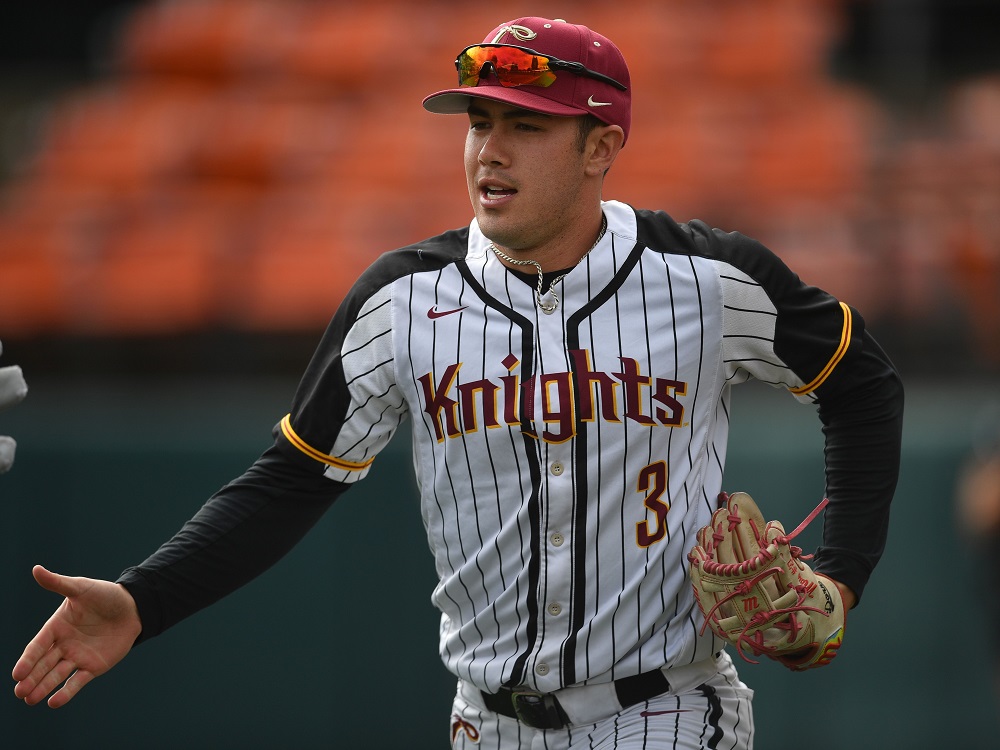 Le powers Knights to series victory over Walla Walla, 9-5
Thursday, June 23, Corvallis, Ore.  – Second baseman Mason Le (pictured, above) tripled, singled twice, scored three times, stole a base and drove in a run to lead Corvallis over Walla Walla 9-5.
The Knights (11-2 all, 11-1 WCL) thus won the rubber game of the West Coast League series before a crowd of 1,329 at Goss Stadium. Corvallis has won all four of its WCL series this season.
Corvallis went single (Logan Johnstone), triple (Le), double (Zander Darby) to start the game and quickly built a 3-0 lead. The Sweets closed to within 5-3 with two in the sixth but the Knights responded with three runs in the bottom half for an 8-3 advantage.
Le (CSU Northridge) was also hit by a pitch and reached base safely four times in five plate appearances. Titus Dumitru (LBCC) and Ely Kennel (Oregon State in 2023) each drove in three runs for Corvallis. Johnstone (Gonzaga) and Darby (UCSB) both scored twice.
OSU Freshman All-American closer Ryan Brown got a start and allowed one run and three hits over three innings, with four strikeouts. Neil Feist (El Camino College) added 1.2 innings of scoreless relief and was credited with the decision; veteran Sean Wiese had 1.2 scoreless frames. Joey Gartrell (Portland) pitched the ninth.
It was the fifth straight scoreless outing for Wiese, a lefty from George Fox University who is transferring to Hawaii for his final season. He has 13 strikeouts, no walks and three hits allowed in 11.2 innings.
The Knights close out their opening homestand against longtime WCL rival Bellingham over the weekend in a matchup of division leaders. The Bells (13-4 WCL) have won nine games in a row.
The probable pitching matchups are OSU righty Ian Lawson (0-0, 0.00) vs. UCSB righty Clayton Hall (1-0, 0.00) at 6:35 p.m. Friday; Utah righty Jaden Harris (0-0, 4.76) vs. UCLA righty Cody Delvecchio (0-0, 3.00) at 6:35 p.m. Saturday and Gonzaga righty Nathan DeSchryver (1-0, 0.00) vs. CSU-San Bernardino righty Austyn Coleman (1-2, 3.85) at 1:05 p.m. Sunday.