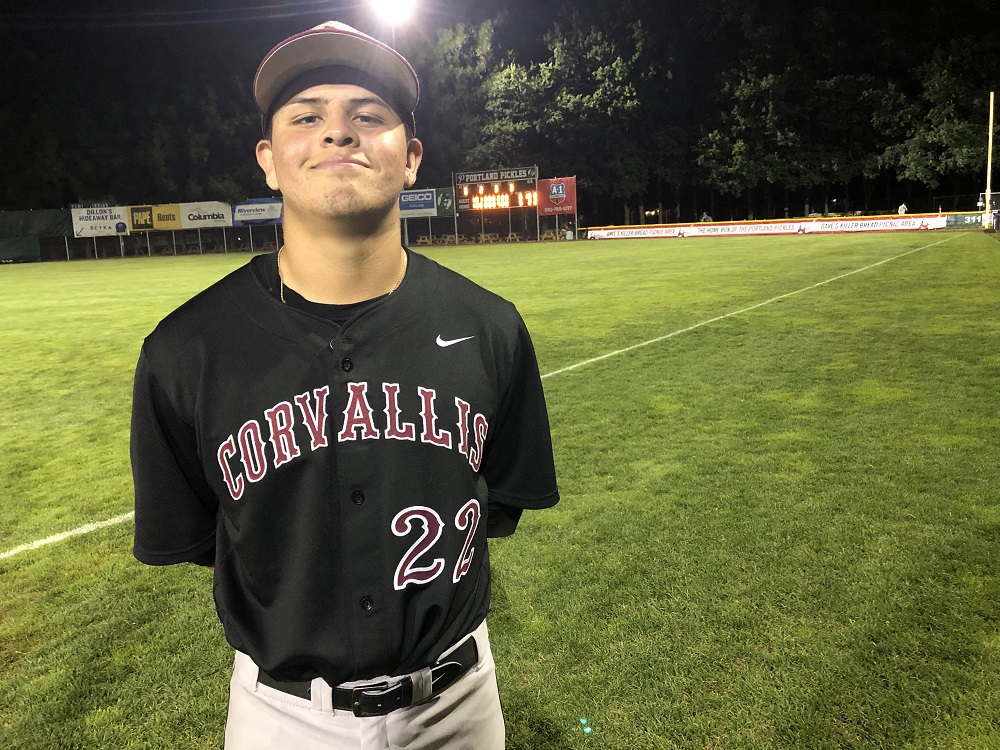 Knights Top Pickles 6-5 to Take Series at Portland
Wednesday, June 23, Portland, Ore. – The Corvallis Knights held the Portland Pickles to just two hits on Wednesday night at Walker Stadium at Lents Park, but needed a two-run uprising in the eighth inning to take a 6-5 lead that Nathaniel Mendoza of Cal State San Bernardino would not relinquish.
After squandering a 4-1 lead by giving up four runs in the 7th on no hits, Corvallis struck back. First baseman Kiko Romero of Central Arizona led-off the eighth-inning with a single and moved to third on a single to right by designated hitter Braden Boisvert. With one out and runners at the corners, third baseman Spencer Scott, a Portland commit, delivered a game-tying RBI single to center. A batter later frosh outfielder Kyler Stancato of Washington State reached on a two-out error by the shortstop to allow the go ahead run to score.
From there, Nathaniel Mendoza (pictured) pitched two scoreless innings to earn his third save of the season. He struck out 4 Pickles batters.
Southpaw reliever Colton Meyer of Linfield shined, tossing 4 1/3 scoreless innings while allowing only one hit and one walk while striking out 7.
The offense was led by Romero and Scott who both collected two hits apiece.
With the win, Corvallis captures the series and improves to 10-4 in the WCL.
The series finale is set for Thursday at 7:05 pm at Walker Stadium. Right-hander Grant Taylor of Washington State is the Knights probable starting pitcher.
To check out tonight's box score, click here.