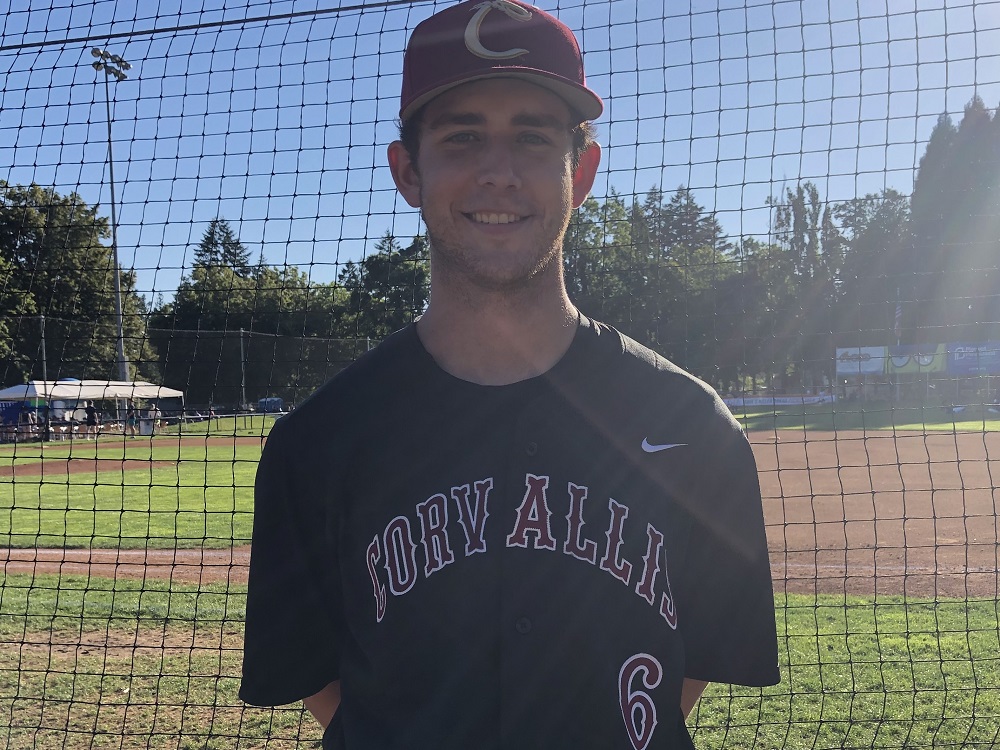 Corvallis Beats Portland 9-2 in Series Finale, Sweeps Pickles
Thursday, June 24, Portland, Ore. – Corvallis pitching continued to shine at Portland as the Knights held the Pickles to only three hits and two runs in their 9-2 victory at Walker Stadium. The Knights offense put 9 runs on the board, and was led by future Portland Pilots infielder Spencer Scott (pictured) who collected three hits and a RBI.
After Portland jumped to an early 2-0 lead by scoring two runs in the first, the Knights responded with three runs in the top of the second. Taison Corio of Cal Poly delivered the inning's big hit with a bases loaded two-run ground rule double to right.
Corvallis scored 4 more runs in the top of the 7th. The big blow was catcher Tanner Smith's two-run double to left-center.
Knights starter Grant Taylor of Washington State got the win as the frosh right-hander tossed 5 innings and only allowed three hits and two runs.
Reliever Sean Wiese of George Fox tossed two scoreless innings of relief while striking out 4 and allowing no hits. Right-handed pitcher Kenji Lamdin of Linn-Benton CC finished things with a scoreless final frame, striking out one and inducing a double play ground out.
With the win, Corvallis swept the Pickles in their first rivalry series of the summer, and improved their WCL mark to 11-4. The Knights head home to Corvallis tonight, and welcome the Wenatchee AppleSox Friday night to Goss Stadium. First pitch is set for 6:35 pm.
Corvallis is currently in first place in the WCL South as the Knights lead Ridgefield (10-5) by one game.
Please note that the start time for the Knights Sunday finale vs. the AppleSox at Goss Stadium has been moved from 1:05 pm to 10 am because of projected Sunday temps of 111 degrees in Corvallis.
To check out tonight's box score, click here.