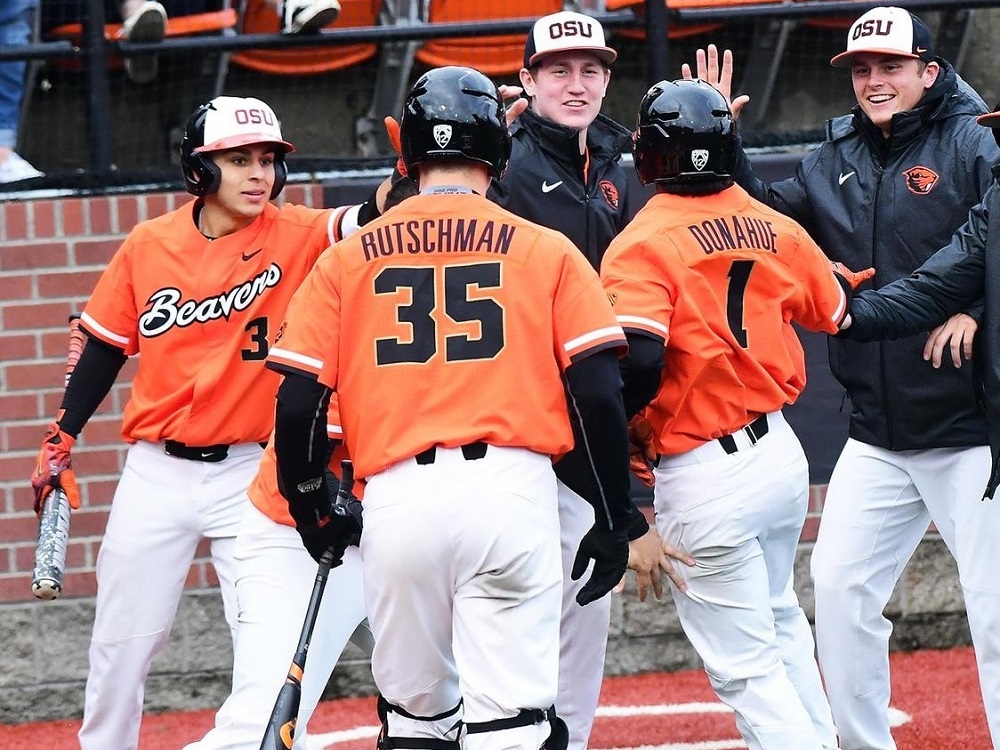 Knights to Feature Full Complement of Beavers
Oregon State sophomore catcher/first baseman Zak Taylor has done his best to prepare freshmen teammates Tyler Malone (pictured) and Elliot Willy for their upcoming summer with the Corvallis Knights.
"I've told them it's comparable to a low-Class A schedule," said Taylor, a Sherwood native who earned second-team all-West Coast League honors while helping the Knights capture the 2016 WCL championship.
"You play every single day, you have that grind…it's a really good experience and you get a lot of playing time. You get into a rhythm, playing every day. It's a really good experience."
Malone and Willy will enter the summer much as Taylor did in 2016, having played sparingly for an outstanding Pacific-12 Conference powerhouse. Taylor had only eight at-bats his freshman year; Malone has only 17 in 11 games and Willy expects to redshirt.
However, Taylor parlayed an outstanding summer with the Knights into increased playing time the following year at OSU. He hit .291 (51-175) in 50 total games, with a homer and 21 RBIs, and was ranked as the league's No. 30 pro prospect by Perfect Game.
"Zak's growth was as accelerated as any player we've had in the Knights organization since I jumped back on the field in 2008," Corvallis Knights head coach Brooke Knight said. "This is a credit to his work ethic, outstanding attitude, and a willingness to be coached, adapt, and improve.
"He finished the season as a middle-of-the-order bat and was a key piece of our championship run. We are really looking forward to having him back this summer to provide leadership across the board."
Taylor said playing on a regular basis with the Knights helped him become an important contributor with the No. 1-ranked Beavers. He has played in 21 of 32 games heading into this weekend's series at UCLA and has six RBIs in just 44 at-bats.
"That was huge," he said of the summer of 2016. "It was such a confidence booster, getting 150 at-bats. It built my confidence and from there I came into fall practice very prepared, and ready to go.
"It's made a 100-percent difference. There is good competition in the West Coast League, a lot of good arms. It helped me to see good pitching" on a consistent basis.
Malone is a 5-10, 183-pounder from Woodcreek High School in Roseville, Calif. He was a three-time all-league selection for the Timberwolves, and earned the Sacramento River Cats (Pacific Coast League) All-City Player Award following his junior year.
"I've never been part of something like [the Knights] before," Malone said. "I've heard in the West Coast League, the Knights are the team to be with.
"It's cool we get to stay in Corvallis and play on our home field. I've heard we get good support from the fans. It should be a good atmosphere."
Malone stayed in California last summer and split his time between working out and playing with a local American Legion team, readying himself for fall practice and his first season of college ball.
"Tyler brings a quality bat to our lineup and we expect him to put up solid numbers in the WCL," Knight said. "Some guys just have a knack to be on time, and barrel balls consistently, and we think Tyler is that kind of player.
"It's going to be fun working with another guy who loves to swing the pole."
Malone has played in 11 games this spring, with five starts, and is hitting .235 (4-17), with two RBIs.
"[Not playing regularly] is something I'm going through now, not getting in that groove," he said. "So I'm looking forward to playing quite a bit and getting quite a few at-bats under my belt.
"My bat hasn't been where it should be yet. It's going to click eventually and when it does this summer I hope to be a big contributor offensively."
The 6-3, 187-pound Willy played for the WCL's Bend Elks last summer following his graduation from Bend High School, where he was a three-time 5A all-state honoree, a three-time Intermountain League all-star, and a Reser's Oregon All-Star Game selection.
He hit .246 (14-57) for the Elks, with a homer and five RBIs in 24 games.
"Elliot is athletic and can really help us in the outfield," Knight said. "He brings a toughness to the field that is important for our play-every-day mentality. We believe that will also translate to leadership and consistency for him individually, as well as his ability to lead others.
"I'd imagine he's hungry to play regularly. We're excited to see what Elliot can do with this opportunity, to set himself up for a great 2017 fall with Oregon State."
Taylor described Malone and Willy as versatile, gritty players typical of their Corvallis predecessors who combined to lead the Knights to the league's best 12-year accumulative WCL record, and a streak of 10 years advancing to the playoffs, since the inception of divisional play in 2007.
"They like to get after it," Taylor said. "They can play different positions, and that's always helpful in the summer.
"They have good mindsets. They both want to work hard. That is what we did last summer; that was our whole team, just out-competing people. They will fit into that mold perfectly."
Joining Taylor, Malone and Willy on the Knights 2017 squad are two key Beaver recruits; Oregon State incoming frosh catcher Troy Claunch of Vacaville High School in Calif. and outfielder Kevin Watson, Jr. of Beaverton High School.