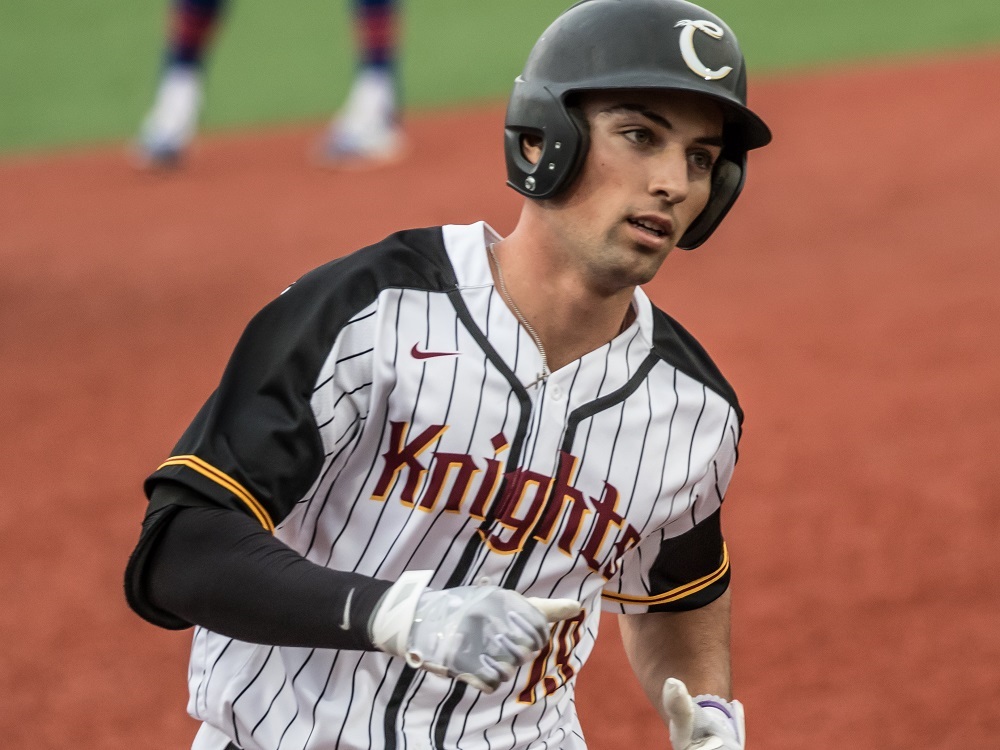 Corvallis Knights Slugger Jordan Qsar of Pepperdine Named Top WCL Prospect
Corvallis Knights right fielder Jordan Qsar was named the No. 1 pro prospect in the West Coast League by Perfect Game and the No. 2 WCL prospect by Baseball America. He was also named honorable mention 2017 Perfect Game/Rawlings Summer Collegiate All-America.
A redshirt junior-to-be at Pepperdine who also played center field, third base and pitcher this summer, Qsar hit .302 (62-205) in 55 regular-season and playoff games. He established franchise records in homers (14), doubles (22) and RBIs (53).
He was a South Division all-star and was named first-team all-WCL as an outfielder.
Right-handed pitcher Louis Crow, a rising sophomore at San Diego, was named Baseball America's No. 5 prospect. Left-handed pitcher Chase Kaplan, a rising senior at Kansas, was ranked No. 10.
Perfect Game will not release its complete rankings list until early September. Qsar was named the No. 1 WCL prospect last week.
Here is Baseball America's analysis of Qsar:
"Qsar is a two-way player in college and did both for the Knights, but his future appeared brighter as an everyday guy this summer. Listed at 6-foot-3 and 195 pounds, Qsar has some untapped power potential from the left side that could show up sooner than later.
He ranked second in the league with 13 home runs and fourth with 49 RBIs [league play only] after slugging just .374 as a sophomore for the Waves in the spring.
'Tons of power from the left side,' one league manager said, 'and a very balanced hitter. He made loud outs, and when he's in the field he has solid range and a plus arm.'
Qsar struggled on the mound this summer but recorded a 3.19 ERA in 26 innings out of the Pepperdine bullpen. He's a good athlete and could go either way as a pro with good athleticism and a three-pitch mix and fastball in the low-90s."
Crow was 0-1, 5.65 in nine games, with one save and 34 strikeouts in 26.1 innings. He was a South Division all-star and was named the top prospect by MLB scouts at the 2017 WCL All-Star Game. Here is Baseball America's evaluation:
"A 16th-round pick by Milwaukee [in 2016], Crow was rated by managers as high as No. 2 and as low as entirely out of their top 15. That inconsistency is for good reason.
He's projectable at 6-foot-3 and 185 pounds with a low-90s fastball and the ability to spin a quality breaking ball. He struck out 34 in 25.1 innings this summer but also walked 16 and was hit around to the tune of a 5.68 ERA.
Crow's command and control took a step backward from the spring with the Toreros, with whom he had a 3.67 ERA across 49 innings with 41 strikeouts and 21 walks. But he's still young, has quality stuff and a good frame to keep attracting scouts to his games."
Kaplan was 3-1, 2.41 in 16 games, with six saves and 31 strikeouts in 22.1 innings. He was named first-team all-WCL, and saved the WCL All-Star Game for the South team.
Kaplan was also ranked No. 10 on Baseball America's 2016 prospects list following his sophomore season at Western Nevada JC. This year Baseball America said:
"Kaplan makes his way back at No. 10 on this list because 6-foot-6 lefties with a fastball that can reach 93-94 don't grow on trees. Yet, he went undrafted after transferring to the Jayhawks this past year, due in part because he only threw 11 innings.
Kaplan returned to Corvallis this summer to iron out whatever problems kept him from contributing at Kansas. He pitched out of the bullpen and recorded a 2.41 ERA while striking out 31 and walked six in 22.1 innings for the Knights.
He'll look to ride that momentum back to Lawrence and could be an intriguing senior sign."
Walla Walla pitcher Chris Lincoln (UC Santa Barbara) was Baseball America's No. 1 WCL pro prospect.
The rest of the top 10, in order, was Qsar; Bellingham catcher Chase Illig (West Virginia), the WCL's MVP; Bellingham outfielder and WCL batting champ Austin Shenton (Florida International); Cowlitz outfielder Devlin Granberg (Dallas Baptist); Bellingham pitcher Holden Powell (UCLA); Walla Walla pitcher Darius Vines (Yavapai JC), and Gresham catcher Jackson Thoreson (St. Mary's).
Qsar, Crow and Kaplan were likewise listed as top WCL pro prospects by the D1BASEBALL.com website. It listed 12 players in its evaluations, but did not rank them in any order.
D1BASEBALL.com described Qsar as:
"Few players took a bigger step forward in summer ball than the 6-foot-3, 195-pounder for the Waves. Qsar finished the 2017 college baseball season with a batting average in the .260s, along with limited power numbers. However, he improved in that department in what is considered to be a pitcher-friendly league.
"Qsar smacked 13 home runs in 181 at bats and had a .304 average this summer. While he hasn't been ultra-productive during his time in Malibu, scouts feel that will change in his redshirt junior season. Qsar has a good, strong frame and was one of those guys who stood out when he walked off the bus. He showed some serious strength during batting practice, had some barrel life and showcased surprisingly quick hands.
"Though Qsar struggled on the mound this summer, he showed some potential with a fastball ranging 91-94 and sitting 92-93. He showed two secondary offerings – a slider and changeup, both in the low 80s. With athleticism and some arm strength, scouts view Qsar as an interesting senior sign."
Here is D1BASEBALL.com's evaluation of Kaplan:
"Scouts had a tough time figuring out how Kaplan didn't make an impact at Kansas or get drafted this summer. Kaplan has good measurables at 6-foot-6, 230 pounds, but served in a limited role for the Jayhawks this past season with a 4.63 ERA in 11.2 innings.
"Kaplan, though, took a big step forward for the Corvallis Knights this summer. He sat 90-93 and up to 94 with his fastball and spun a breaking ball in the 76-77 range. He's a big kid with some body strength.
"One scout talked about his strike-throwing ability, but it should be noted that Kaplan struck out 31 and walked just six in 22.1 innings this summer. Like Qsar, Kaplan could greatly increase his stock with a strong showing as a senior."
Below is D1BASEBALL.com's evaluation of Crow:
"Crow still needs to establish more consistency to take the next step as a prospect and for the Toreros, but the frame and stuff is there. Crow is a 6-foot-3, 185-pounder, who had an ERA north of three for USD last season.
"And this summer, he struck out 34 in 25.1 innings, but also had an ugly 5.68 ERA. He showed flashes of brilliance at times, while also struggling immensely on occasion.
"The sophomore has a lean and athletic frame with a fast arm. He has good present velocity at 90-93, while he typically sat 91-92 with the offering. He also showcased a high-70s breaking ball with some good spin, along with a fast arm.
"There's a lot of projection here with Crow, but the key for him will be harnessing his command. The command aspect of his game went in and out throughout the summer and that must improve. Some scouts consider Crowe to be the best prospect in the league."
Also mentioned by D1BASEBALL.com were Victoria pitcher Indigo Diaz of Iowa Western; Vines; Shenton; Victoria outfielder Hunter Vansau of Mississippi State; Granberg; Illig; Wenatchee outfielder Evan Johnson of Northern Colorado; Bellingham shortstop Ernie Yake of Gonzaga, and Gresham outfielder Mike Peabody of UC Irvine.