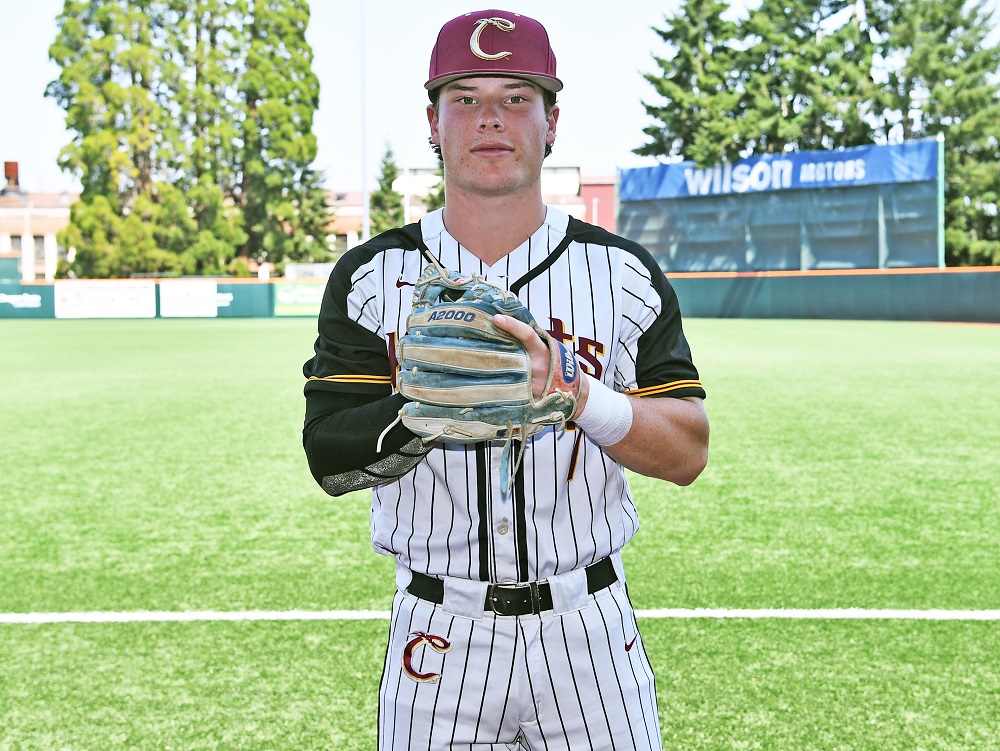 Knights Rally From Early Deficit to Edge AppleSox, Complete Sweep
Sunday, July 11, Wenatchee, Wash. – Reliever Drew Dowd of Stanford got the final two outs with the bases loaded to preserve a 7-6 victory for the Knights, giving them a sweep of their weekend series with Wenatchee at Paul Thomas Sr. Field.
A rising sophomore, Dowd entered with the bases loaded and one out in the bottom of the ninth. He struck out the first hitter for the second out, and then fanned AppleSox leadoff batter Justin Simpson to end the game.
Dowd's heroics enabled the Knights (23-7 WCL, 5-1 second half, 25-8 overall) to complete a comeback from a 6-1 deficit. They broke a 6-6 deadlock in the top of the ninth; Travis Bazzana (Oregon State) reached second on an infield base hit and a throwing error, and then scored on a single by Kyler Stancato (Washington State).
Bazzana (pictured, above) was 4-for-5 with a double, a run, an RBI and a stolen base to up his West Coast League-leading average to .415. He was 9-for-15 (.600) in the series, with two doubles, a triple and four RBIs. He entered the series hitting .388.
Corvallis relievers Tyler Frazier (UC Riverside), new addition Brett Gillis (Portland), Nathan DeSchryver (Gonzaga), Nate Mendoza (Cal State San Bernardino) and Dowd combined to hold the AppleSox scoreless on two hits over the final 5.2 innings, with 10 strikeouts.
Corvallis trailed 6-1 after five innings but drew within 6-3 in the sixth on a two-run single by Braden Boisvert (future OSU Beaver). The Knights tied the game in the seventh on a 3-run homer by Nick Vogt (UC Santa Barbara), his first round-tripper of the summer.
The Knights have now won 11 straight, and 16 of their last 18, against their longtime WCL rival. Wenatchee's last win in the series was a 4-0 shutout at Goss Stadium on June 12, 2018.
The Knights are idle on Monday, their first day off since June 14. They start a two-game nonleague home series against Driveline Baseball of Kent, Wash., at 6:35 p.m. Tuesday; Wednesday's finale begins at 12:05 p.m.