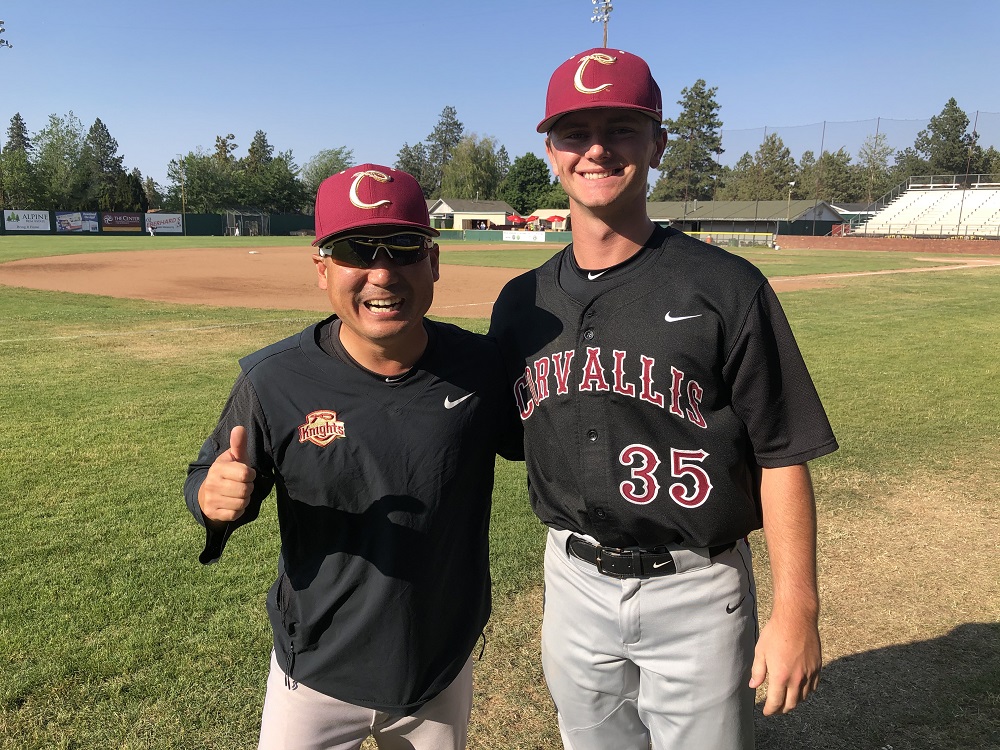 Knights Pitching Shines in 2-0 Win at Ridgefield
Sunday, July 4, Ridgefield, Wash. – The Corvallis Knights whitewashed the Ridgefield Raptors 2-0 in the series finale at the Ridgefield Outdoor Recreation Center behind outstanding pitching led by rising junior Brock Townsend of Oregon State (pictured with assistant coach Youngjin Yoon).
The right-hander from Eugene, Oregon twirled 6 innings of scoreless baseball, allowing only 5 hits while striking out 5. Townsend did not get a decision. The winning pitcher was future Gonzaga Bulldog Nathan Deschryver. The righty from Bainbridge Island tossed a scoreless 7th and struck out 2. Future southpaw Ethan Ross of San Jose State pitched a scoreless eighth and then Nate Mendoza of Cal State San Bernardino struck out the side in the 9th to earn his 4th save of the season.
Corvallis got on the board in the 8th as rising sophomore outfielder Nick Vogt of UC Santa Barbara was hit to lead-off the inning. He advanced to second on a pinch-hit single by Riley Way of L-C State. After both runners were advanced on a sac bunt by redshirt freshman catcher Jake Leitgeb of Washington, sophomore-to-be outfielder Kyler Stancato of Washington State delivered a game-winning sac fly.
In the top of the 9th, third baseman Tanner Smith, a future Oregon State Beaver, blasted a two-out solo home run to left to give Corvallis the 2-0 advantage.
With the victory, the Knights finished the first half with a 18-6 mark. They clinched the first-half WCL South title last Friday night with a 5-2 win over Ridgefield at Goss Stadium. With the series sweep, Corvallis improved its all-time record vs. Ridgefield to 9-0.
The Raptors starting pitcher Nate Weeldryer of Washington threw four perfect innings to start the game. Vogt broke-up Weeldryer's no-hitter in the fifth inning.
The Knights return home Monday, July 5 for a non-league contest vs. the Cascade Collegiate All-Stars. First pitch is set for 6:35 pm.
To check out today's box score, click here.