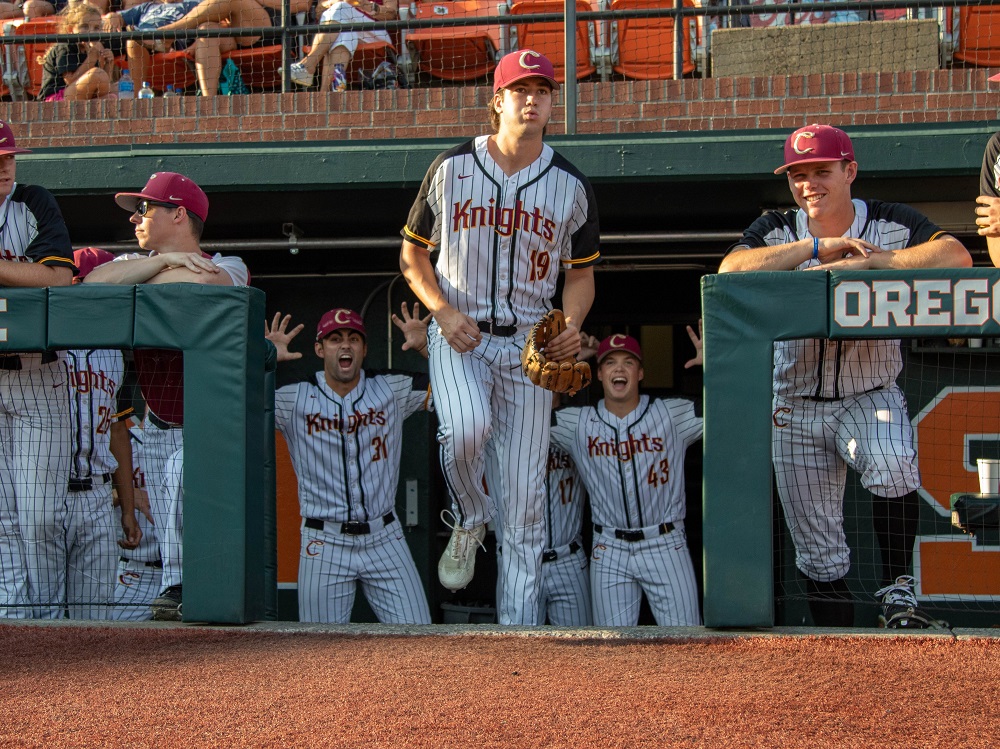 Knights Crush Ridgefield, Sweep Series, Advance to WCL Finals
Sunday, August 15, Corvallis, Ore. – The drive for five stays alive.
The Knights blasted Ridgefield 9-0 before a Goss Stadium crowd of 1,228 to sweep their best-of-3 West Coast League South Division Series and advance to this week's West Coast League Championship Series in search of their fifth consecutive league title.
Corvallis (48-13 overall) will face either Yakima Valley or Bellingham in the finals, time and place to be determined upon the completion of their ongoing North Division playoff series. Yakima Valley won 6-3 on Sunday to even the series at 1-1; they play the rubber game at 7:05 p.m. Monday at Yakima.
Corvallis outscored the Raptors 22-6 in the series in improving its all-time record against the Raptors to 14-0. It captured the series opener 13-6 at Ridgeview on Aug. 14.
The Knights hammered 14 hits, jumped out to an 8-0 lead after three innings and never looked back. Starter Ethan Ross (# 19, pictured above) and five relievers combined for 12  strikeouts and held the Raptors to three hits.
"I was trying to pound the zone to get ahead of all the hitters," said Ross, who threw 35 strikes in 57  pitches.  "If you don't do that, it's kind of rough, but if you do it's fun. That's what I tried to do all night.
"Everyone wants the [championship] ring, that's why we're here. W I N, that's it."
Briley Knight (Portland), a member of the Knights' 2018 and 2019 title teams,  singled three times, drove in three runs, scored once and stole a base to lead the offense. Knight had two hits and four RBIs in the Aug. 14 win.
Tanner Smith (Oregon State) doubled twice, singled and drove in two. Kiko Romero (Central Arizona) singled and doubled, joining Knight in his playoff hot streak. He had a grand slam, a triple and five RBIs on Aug. 14.
Travis Bazzana (OSU) doubled, singled, scored, stole a base and drove in a run.
The first two Raptors reached safely against Ross and after a strikeout he went 3-0 to Ridgefield's cleanup hitter. However, he came back for another strikeout, escaped the jam with a groundout and then retired nine more Raptors in a row to stretch the streak to 12. Ross struck out five and did not issue another walk after the leadoff hitter.
The Knights are chasing their eighth WCL title in their 12th Championship Series appearance. They won the crown in 2008, 2011, 2013, 2016, 2017, 2018 and 2019, and lost in the finals in 2007, 2009, 2012 and 2014.
This will be the 14th Championship Series since the four-team playoff format began in 2007; the Knights have appeared in all but two (2010, 2015). There was no 2020 season because of the Covid-19 pandemic