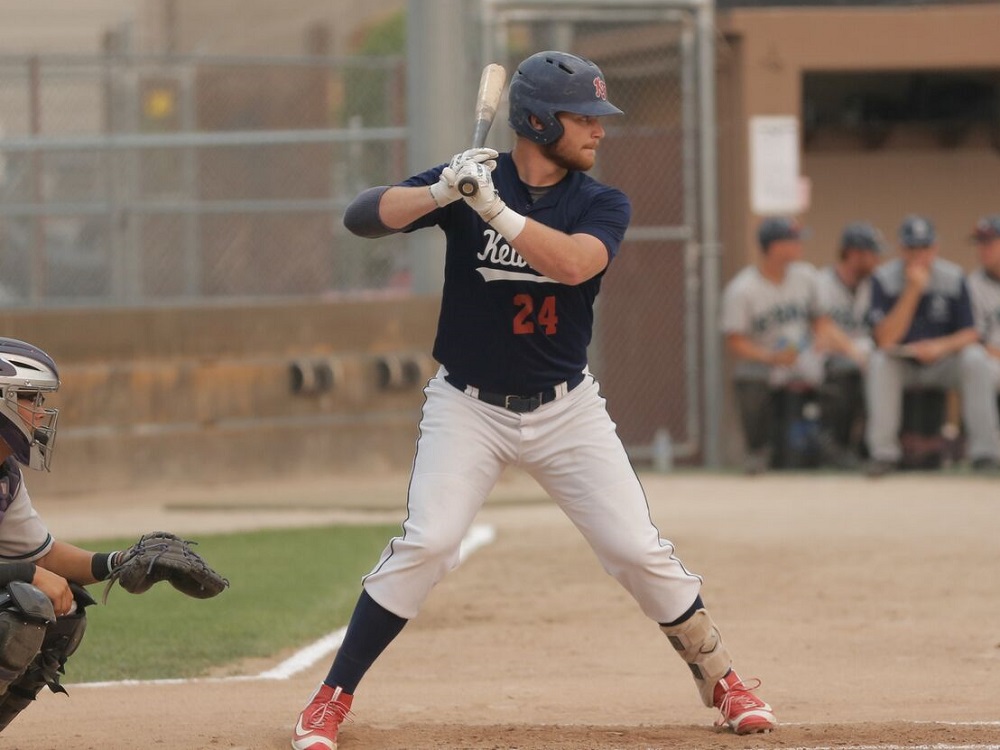 Kelowna Falcons Edge Bellingham to Advance to WCLCS to Face Corvallis Knights
The Kelowna Falcons punched their ticket to the West Coast League Championship Series last night with a thrilling 7-6 win at Bellingham.
With the victory, Kelowna advances to the WCLCS for the second time, its first appearance since 2015 vs. Bend.
Kelowna and Corvallis are founding members of the West Coast League, yet have never met in the finals.
Corvallis swept its regular-season series with Kelowna, taking a single game to open the season, three at Goss Stadium and two most recently at Elks Stadium in Kelowna July 28-29.
The Falcons have been playing playoff-like baseball starting with its final regular-season home series vs. Wenatchee. Kelowna's last two games vs. the AppleSox were elimination games, and the Falcons responded with 15-1 and 11-3 wins to earn a playoff spot. From there, Kelowna beat first-half and second-half champion Bellingham at home 4-2 on Friday, August 10 before dropping game two 4-3 in 12 innings at Joe Martin Field setting up last night's decisive series finale.
Kelowna is led by slugger Dan Pruitt (pictured) of Seminole State College, who went 3-for-3 last night with a double, homer and 3 RBIs. Pruitt blasted two homers in the WCLDS and went 5-for-8 versus the Bellingham Bells formidable pitching staff.
Over his last five games, Pruitt has hit 5 home runs, collected 10 RBIs and went 12-for-22. The sophomore-to-be first baseman hit .331 for the summer with 7 homers and 26 RBIs; and was selected to play in the 2018 WCL All-Star Game.
The Falcons also featured 2017 first-team all-WCL shortstop Taylor Wright of Maryland. The senior-to-be left-handed hitting slugger, who moved to third base this season, hit .295 with 10 doubles, 4 homers and 33 RBIs for Kelowna this regular season.
Kelowna's pitching staff is anchored by 2018 all-star and Falcons' closer Cal Hehnke of Nebraska-Omaha. Hehnke was a second-team all-WCL selection in 2017. This summer, Hehnke went 3-1 with 7 saves while posting a 1.73 ERA with 42 strikeouts over 17 appearances and 26 innings pitched.
The Falcons starting staff features James Brooks of Central Washington (4-0, 4.66), Trevor Brigden of Okanagan College (4-4, 2.94) and Jared Akin of Concordia (4-4, 5.32).
Corvallis is appearing in the club's 10th WCLCS and is hoping to three-peat as league champions. The Knights captured WCL titles in 2008, 2011, 2013, 2016 and 2017.
The Knights open the WCLCS at Kelowna on Tuesday, August 14 at Elks Stadium. First pitch is set for 6:35 pm. Games two and three are scheduled at OSU's Goss Stadium in Corvallis on Thursday, August 16 and Friday, August 17 (if necessary).
Photo Credit: Cary Mellon.