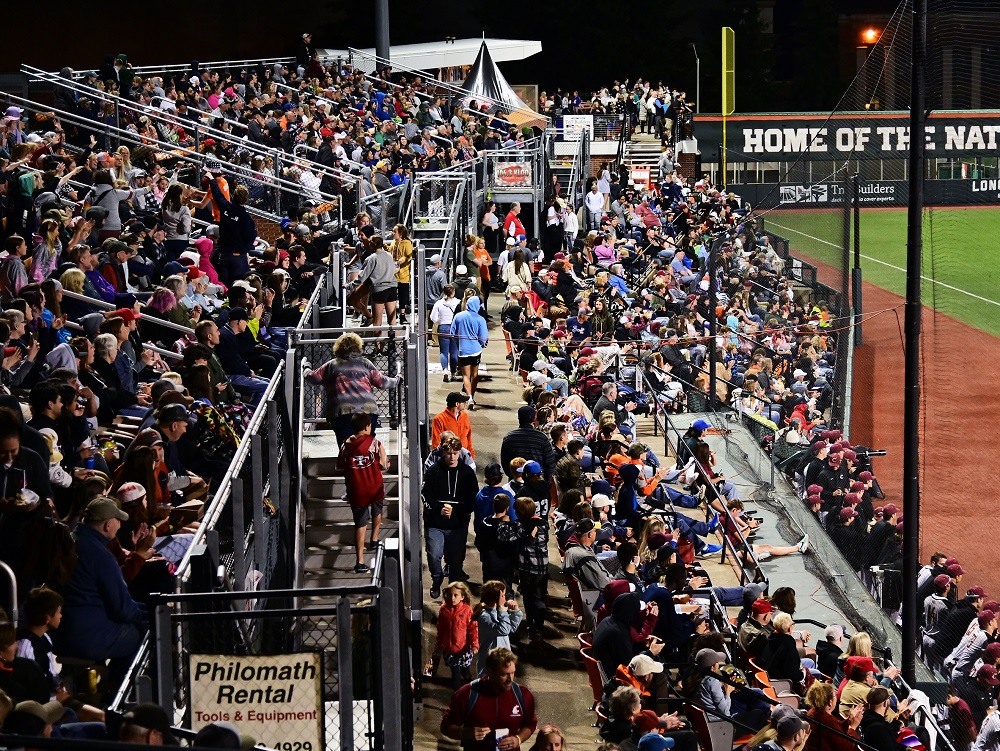 Knights Capture WCL South First-Half Title
Friday, July 8, Corvallis, Ore. – The Corvallis Knights captured their fifth WCL South first-half title with their first-half ending 4-1 win over the Ridgefield Raptors last night at Goss Stadium. Since the WCL moved to its first and second half format in 2016, Corvallis has won 5 of 6 first-half championships earning playoff berths early in 2016, 2017, 2019, 2021 and 2022. In 2018, the Portland Pickles finished the first half in first place.
Tonight, the Knights second half begins with a three-game series at longtime rival Bend. The Elks are currently 19-11 and are managed by former Oregon State Beavers great Joey Wong.
Corvallis enters the second half of the season as the four-time reigning second-half South champs finishing the second half in first place in 2017, 2018, 2019 and 2021.
The Knights finished this summer's first half with a 18-8 record and lead the league's 16-team circuit in fielding percentage at .975 and feature the WCL's second lowest team ERA at 2.56.
Returnee reliever Sean Wiese, a future University of Hawaii southpaw, leads the WCL in relief points with 15 as the former George Fox Bruin has collected 3 wins and 3 saves over 8 appearances and 17 innings pitched. He has yet to allow a run and has only walked two while striking out 19.
Corvallis starting pitching led the Knights to a blistering 9-0 start to the 2022 season with Jesse Barron of San Francisco, Joey Gartrell of Portland, Kaden Segel of Linn-Benton CC and Nathan DeSchryver of Gonzaga leading the way and in first-half starts.
Barron is 3-1 over 4 starts with a 0.77 ERA (second lowest in the WCL) and has struck out 24 and walked only 3 over 23.1 innings. Gartrell is 1-0 with a save over 6 appearances, 3 starts and 18.1 innings pitched while posting a 1.47 ERA. Segel is 2-1 over 5 appearances, 3 starts and 17.1 innings with a 1.55 ERA. DeSchryver is 2-1 with a 1.92 ERA over 6 appearances, 3 starts and 14 innings pitched.
Offensively, the Knights lead the WCL in triples with 10 with Redlands outfielder Jonah Advincula's two triples being the second most in the league. Corvallis is second in team stolen bases with 72 with Advincula leading Corvallis with 11 swiped bags.
Infielder Ely Kennel, an Oregon State commit, and future Arizona Wildcats first baseman Kiko Romero have powered the Corvallis offense as Kennel is tied for the team lead in homers with Kiko with 4 and leads the Knights in RBIs with 18. Romero collected 16 RBIs in the first half.
Catcher Tyler Quinn of Pacific posted the team's top first-half batting average, hitting .348. Advincula finished the first half batting .347.
Shortstop Spencer Scott of Portland and outfielder Titus Dumitru of Linn-Benton CC both put up similar numbers with Scott hitting .277 and Dumitru .276 while they both had 3 doubles, 2 triples and 14 RBIs. Scott's 9 stolen bases are second best on the club.
In the first half, Corvallis went 14-1 versus Yakima Valley (6-0), Cowlitz (3-0), Walla Walla (2-1) and Port Angeles (3-0) and lost series to Bellingham, Springfield and Ridgefield while splitting two games with the Portland Pickles.
Total overall Goss Stadium attendance at the conclusion of the first half was 25,691, an average of 1,605 per game.
The second-half schedule features 28 games as the Knights play a rescheduled contest at Portland on July 18.