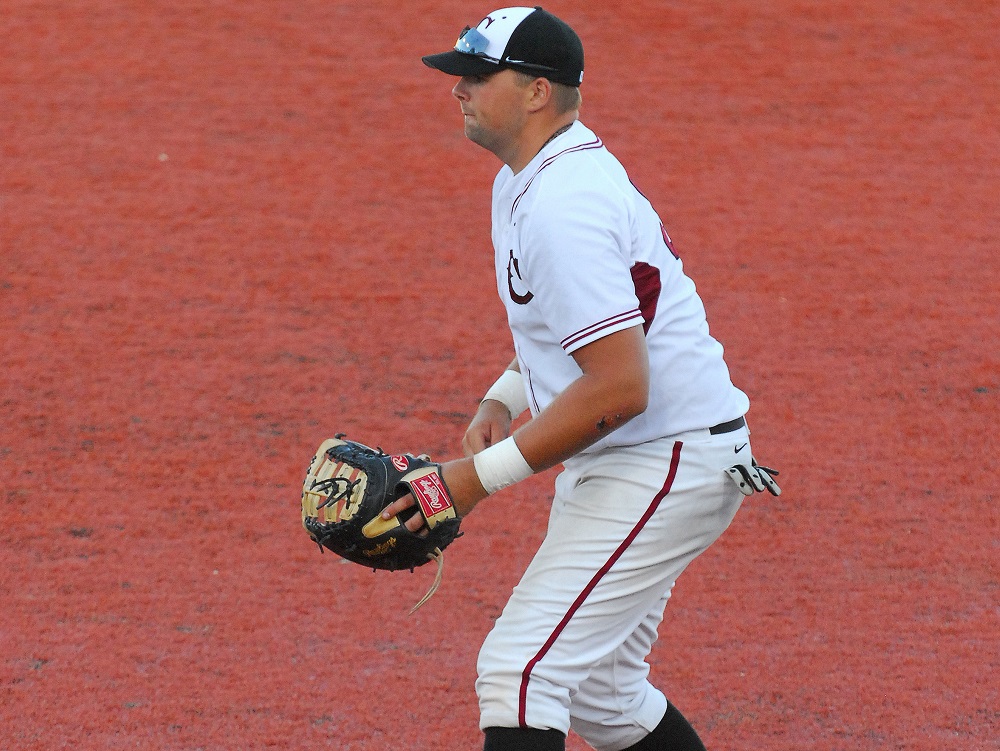 Corvallis Knights Alum DJ Johnson Takes Long Road to Major Leagues
Not drafted? No problem.
Released or not deemed good enough by the Tampa Bay, Arizona, Minnesota, Los Angeles Angels organizations? No big deal.
Missing an entire season with an arm injury? So what.
Playing almost two full years in the independent Frontier League in out-of-the-way Traverse City, Mich.? Part of the deal.
Playing for nine different minor-league teams over an eight-year span, and spending all or part of seven seasons at the AA, A or Rookie League-level? If that's what it takes.
No matter the odds, former Corvallis Knights' first baseman/designated hitter D.J. Johnson (pictured playing first base at Goss in 2008) never gave up on his dream to make the major leagues. And his persistence and dedication were rewarded on Sept. 4, when the Colorado Rockies purchased his contract from their Albuquerque affiliate in the triple-A Pacific Coast League.
After 273 minor-league appearances, the 6-foot-4, 235-pound right-hander with the burly black beard finally got his shot at the Show, just five days after his 29th birthday. That completed a long journey that started at Sunset High School, Mt. Hood Community College, the Knights and Western Oregon University.
He made his MLB debut on Sept. 9 and struck out the only two batters he faced in a 9-6 loss to the Dodgers at Coors Field. He earned his first victory on Sept. 25, with one-third of an inning of relief against Philadelphia.
"It has been a long and winding road to get here," Johnson told Baseball America reporter Tracy Ringolsby. "There have been a lot of ups and downs.
"For me, it has been, 'I'll keep playing until my arm falls off,' " Johnson said, " 'or somebody doesn't want to give me a jersey any more.'
"It's something I always wanted to do, but I always thought I'd be a hitter," he said. "But I wouldn't have it any other way right now. It's been a long, crazy journey, and everything that I've done up until this point seemed like it was pointless.
"But now? It's been worth it."
He made six appearances overall and finished 1-0 with a 4.50 ERA and nine strikeouts in only six innings. He fanned six of the first 13 MLB batters he faced and did not allow a run in five of the six outings.
The Rockies have already qualified for the postseason playoffs. They will face the Dodgers in Los Angeles today in a one-game playoff to decide the NL West Division championship.
If Colorado wins, it will face Atlanta in the NL Divisional Series. If the Rockies  lose, they will face either Chicago or Milwaukee in the wild-card game; the wild-card winner faces Chicago or Milwaukee in the Divisional Series.
Chicago and Milwaukee tied for first place in the NL Central. They will also have a one-game playoff on Monday, at Wrigley Field.
Johnson can pitch on Monday if necessary, as the playoff is considered a regular-season game. However, he was promoted too late to earn a spot on Colorado's post-season roster.
Johnson had no idea late in the season if he would be called up by the Rockies on Sept. 1, when rosters expanded from 25 to 40 players.
"If something good happens, I'm grateful," he told the Albuquerque Journal newspaper. "But that's somebody else's decision.
"Obviously it's every kid's dream to get that call and play in the big leagues."
Added WOU coach Kellen Walker: "What a great moment for D.J. He took advantage of an opportunity following his time at WOU and dedicated himself to the game and his ultimate goals.
"We couldn't be happier for him and are excited to see his continued success."
Johnson had a spectacular summer for Albuquerque in his first season in triple-A. He was 3-5, 3.90 in 50 games, with 18 saves and 84 strikeouts and only 15 walks in 55.1 innings. He averaged 1.52 strikeouts per inning, and was selected to the PCL side for the Triple-A All-Star Game.
Johnson was 18-for-23 in save opportunities, the third-highest save total in the PCL. He led the league in games finished (43) and was fourth in total appearances (50)
He also earned the team's Jennifer Riordan Community Award for his contributions to the community throughout the season by appearing at several appearances at hospitals, schools, libraries, and other special events. The award honors Riordan, a who died earlier this year in an accident aboard a Southwest Airlines plane.
She was a fixture in the Albuquerque community who was a long-time supporter of the Isotopes, both as a corporate partner and as a mother of a baseball family who loved coming to games at Isotopes Park.
Johnson played for the Knights in 2008 and 2009, following his freshman and sophomore years at Mt. Hood CC. He then transferred to WOU, where he played in 11 games as a position player after injuries prevented him from pitching.
He signed with Tampa Bay as a non-drafted free agent following his junior season, started pitching exclusively, and began his pro career with the rookie-level Gulf Coast League Rays.
"I was a pitcher in high school, and the pitching coach at Western Oregon coached a high school all-star team that every year played the Salem-Keizer Volcanoes, a short-season team for the Giants," Johnson said. "He asked me to pitch a couple innings, just so it wouldn't be a complete slaughter.
"There happened to be a scout for Tampa Bay in the stands. He called my head coach at Western Oregon, and three days later called me asking me if I wanted a job."
Tampa Bay released him the following April, however, a move that touched off a vagabond journey through the lowest levels of affiliated and independent baseball.
In 2011, he signed with Traverse City in the independent Frontier League, and then earned a shot with Missoula, Arizona's affiliate in the rookie-level Pioneer League that July.
He played for South Bend (Midwest) and Visalia (California) in the Arizona organization in 2012, but was on the DL for the entire 2013 season and then released by the Diamondbacks that October.
He re-signed with Traverse City in 2014, and then was picked up by Minnesota in July. He pitched at Class A Fort Myers (Florida State) in 2014 and 2015 and at double-A Chattanooga (Southern) in 2015 before being granted free agency that November.
Signed by Miami in Nov., 2015, he was then selected by the Angels in the Rule 5 Draft that December. He spent the 2016 season at double-A Arkansas (Texas), made the all-star team, and then declared free agency and signed with Colorado.
He spent 2017 at double-A Hartford (Eastern) and 2018 at Albuquerque.
Overall he is 17-19 with a 3.57 ERA in 283 games, with 54 saves and 375 strikeouts in 358 career innings.
He is the sixth member of the 2009 Knights to make the majors. The others are current MLB pitchers Matt Andriese (Diamondbacks), Sam Gaviglio (Blue Jays) and Colorado teammate Tyler Anderson and catchers Rocky Gale (Dodgers) and  Andrew Susac (Giants, Brewers, Orioles).
Pitcher Josh Osich, a 2008 teammate, also has played in MLB with the Giants.
15 former Knights appeared in the big leagues in 2018, including the aforementioned and Tampa Bay Rays infielder Matt Duffy, Seattle Mariners outfielder Mitch Haniger, Arizona Diamondbacks catcher Chris Stewart; and pitchers Matt Boyd of Detroit, Jace Fry of the Chicago White Sox, Bud Norris of St. Louis, Marc Rzepczynski of Seattle and Jimmie Sherfy of Arizona.