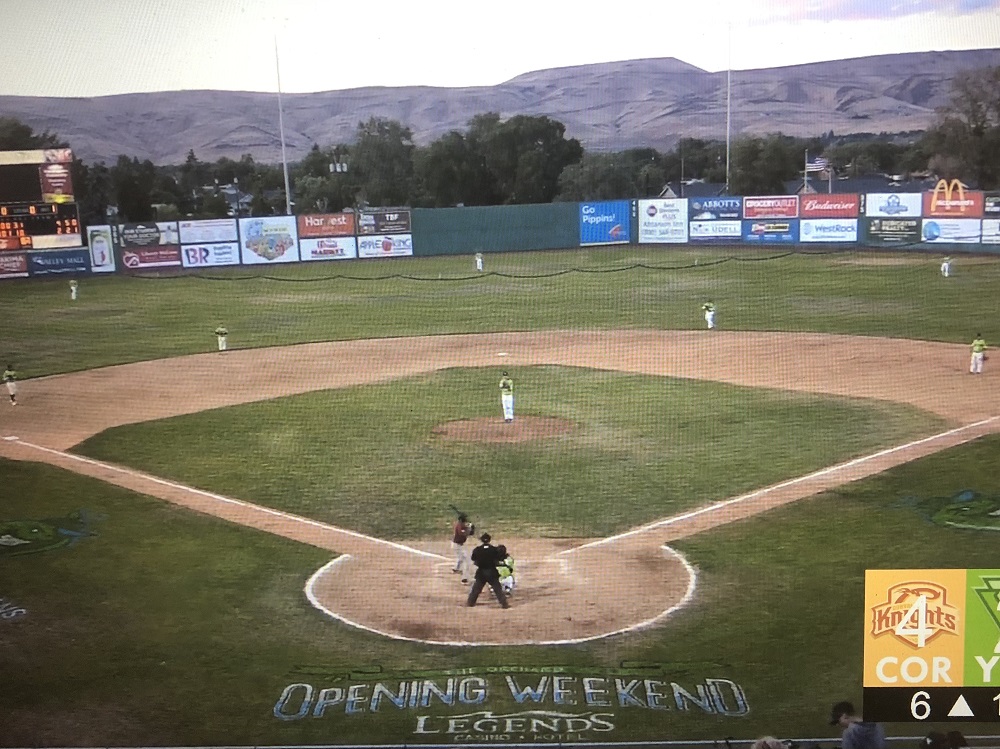 Corvallis Evens Series at Yakima Valley with 11-3 Win
Saturday, June 5, Yakima, Wash. – The Corvallis Knights bounced back after a 10-1 Opening Night shellacking at the hands of Yakima Valley to rout the Pippins 11-3 to even their opening weekend series.
Down 1-0, Corvallis tied the score 1-1 with a RBI double by future Oregon State Beaver Tanner Smith in the 4th inning. Later that inning, another future Beaver, first baseman Braden Boisvert of Seward County CC, blasted a two-run homer to left-center to give the Knights a 3-1 advantage.
The Knights would extend their lead to 4-2 in the 5th thanks to a RBI single up the middle by third baseman Tanner Smith.
Corvallis would add four more runs in the 6th as University of Portland frosh outfielder Ethan Loveless scored sophomore Trey Hageman of Linn-Benton CC on a rare sacrifice fly to first base to put the Knights up 5-2. Then new addition junior-to-be Briley Knight of Portland launched a three-run homer to right field to give Corvallis a 8-2 lead. Knight was the West Coast League's MVP in 2019 and won titles with the Knights both in 2018 and 2019. Knight would add a RBI single in the 8th for the Knights.
Future OSU Beaver shortstop Travis Bazzana led the offense going 5-for-6 with two runs scored.
Washington State freshman right-hander Grant Taylor tossed four solid innings only giving up two, two-out bloop RBI singles to right while striking out 8 Pippins. He was relieved by sophomore Nathaniel Mendoza of Cal State San Bernardino who tossed three scoreless innings to earn the win.
Future Stanford Cardinal righty Ty Uber pitched two innings to close out game two for the Knights, striking out 5.
Corvallis and Yakima Valley will play a rubber game Sunday, June 6 at 6:05 pm at Yakima County Stadium. Washington State's Ethan Ross is the Knights probable starter.
To check out tonight's game box score, click here.