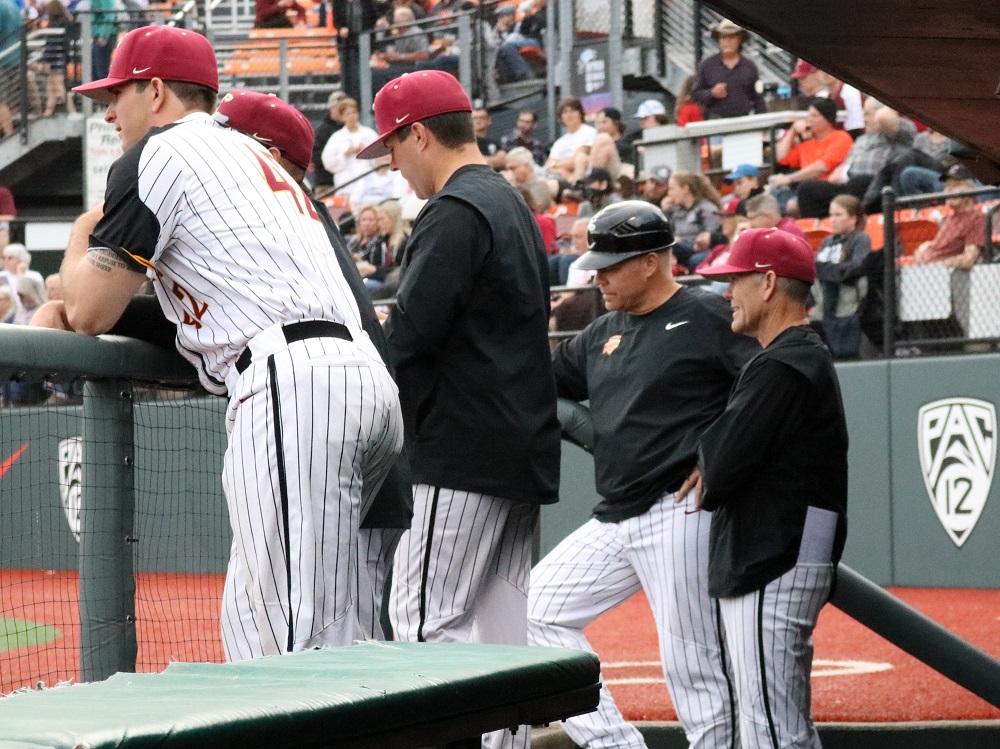 Championship Coaching Staff to Return for 2019 Season
The coaching staff that directed the Corvallis Knights to an unprecedented third-consecutive West Coast League championship will return for the 2019 season.
Head coach Brooke Knight, associate head coach Ed Knaggs, pitching coach Kellen Camus and assistant coach Youngjin Yoon will again serve as the brain trust for the Knights, who open the season on May 28 with their annual Weyerhaeuser Science, Engineering & Art Day battle with the Portland Sea Dogs.
"People might say I'm biased, but I'd argue we have a coaching staff that includes the very best, and I'm the lucky one who gets to show up and strap it on all summer with Ed, Kellen and Yoony," Knight said.
"Last year's addition of Ed Knaggs has been one of our savviest moves to date.  Knowing how well-respected Ed was previously, it only made sense to try to add one of the very best to our staff.
"The mutual respect we have for each other is unwavering, and I'd like to think this trickles downhill to coach Camus, Yoony, and everyone within our player group.
"Ed is a true professional and one of the best baseball minds in the game.  Kellen is an outstanding young pitching coach who is well on his way to big things. Yoony is uniquely special, and gets the very most out of our guys with regards to mental preparation and overall body care, he's so advanced."
Knaggs joined the Knights in 2018. He was the head coach of the WCL's Wenatchee AppleSox from 2001-14 and posted a winning record every season. He led Wenatchee to five WCL championships (2005, 2006, 2009, 2010, 2012) and two runner-up finishes (2008, 2013).
"I'm excited they asked me to be a part of another summer season in Corvallis," Knaggs said. "All of those years being in the opposite dugout it was quickly apparent what a first-class organization Dan Segel had put together as well as what an accomplished coach Brooke Knight was.
"I always would measure myself and our AppleSox program up to how we would compete with the Corvallis Knights.  Now, after having the opportunity to be a part of the Knights family for a season my respect has even grown more as I have had the chance to see how the organization is run (Dan, Bre, and Korey) and to work with/watch Coach Knight lead and develop the players."
Knaggs also won five division championships and earned WCL Coach of the Year honors four times at Wenatchee before retiring after the 2014 season. He coached 771 total games and was 300-172 (.636) in WCL regular-season contests. Wenatchee also won the 2003 Pacific International League title; that circuit was the precursor to the current WCL, which was formed in 2005.
More than 75 AppleSox earned first or second-team all-WCL honors during Knaggs' tenure. Three earned the WCL's Most Valuable Player award. At the time of his retirement, eight AppleSox had reached the major leagues.
Knaggs played at College of the Canyons under UC Irvine coach Mike Gillespie, and at UC Irvine under Steve Hertz. He was an assistant coach at Gonzaga under Hertz for seven years before moving to Wenatchee to become the head coach at Wenatchee High School from 1991-2011.
He also assisted with the Chatham A's of the Cape Cod League for one season.
Yoon has worked with the Knights the past three seasons. A veteran coach with professional experience with the Lotte Giants in South Korea's equivalent of Major League Baseball, Yoon has worked in the United States since 2009; mentored by former Riverside City College head coach Dennis Rogers, a longtime partner of the Knights.
Camus joined the Knights at midseason in 2016 when former pitching coach Connor Lambert took a full-time assistant's position at the University of Portland. Camus pitched at Washington State from 2011-14, and worked there as a grad assistant in 2014-15. He has been an assistant at Central Washington since 2016.
"Our pitchers and players are very fortunate to be around such a quality young coach in Kellen Camus as well as an incredibly unique person and coach in Youngjin Yoon," Knaggs said. "I believe our staff has a lot to offer the players who wear the Knights uniform as they work to develop their game and get to the next level.
"As coaches we always preach to our players to keep improving. We as coaches need to continue to grow and improve as well.  Being able to work with and alongside coach Knight has certainly allowed me to do that."