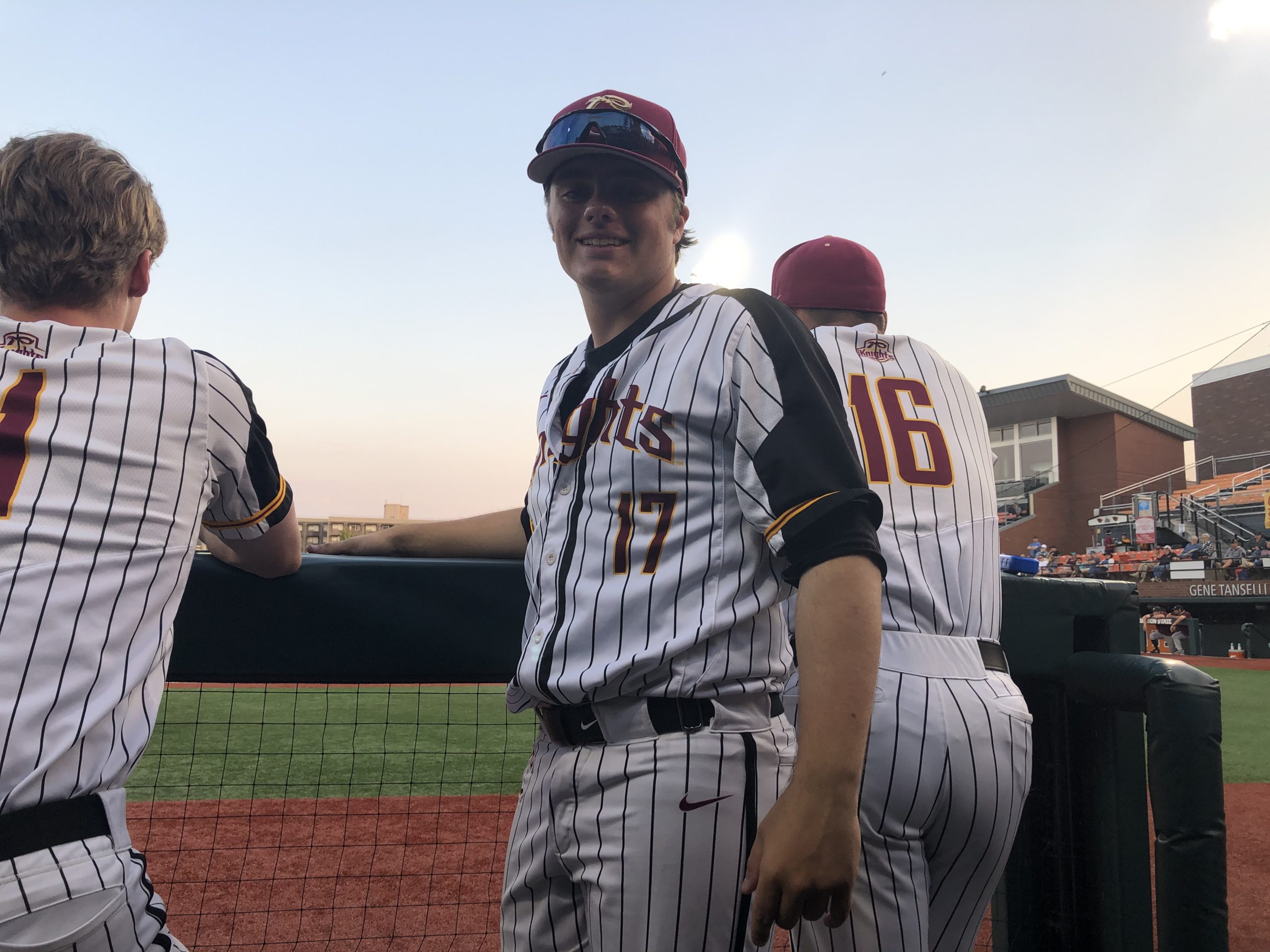 Bullpen shines but Knights drop nonleaguer to NW Star Academy
Monday, June 21, Corvallis, Ore. – Reliever Sean Wiese (pictured, above) threw 2.2 scoreless innings to lead an effective bullpen effort but Corvallis lost 5-1 to the Northwest Star Academy in a nonleague game at Goss Stadium.
A rising sophomore lefty at George Fox University, Wiese struck out four and retired eight of the nine batters he faced. He threw 29 strikes in 43 pitches against the Nighthawks, a club team from Ridgeview, Wash., composed primarily of junior college players.
Wiese and ensuing relievers Colton Meyer (Linfield), Kenji Lamdin (LBCC) and Jackson Arnsdorf (Corban) held the Nighthawks hitless over the final 6.2 innings to keep Corvallis within striking distance. However, the Knights could not mount a comeback.
Corvallis scored its lone run in the eighth inning. Nick Vogt (UC Santa Barbara) reached on an error, stole second, went to third on a balk and scored on a single by Jake Hoskins (LBCC).
Kyler Stancato (Washington State) had four of the Knights' 10 stolen bases.  Corvallis hit into two bases-loaded, inning-ending double plays and left 13 runners on base.
"I credit the coaches," Stancato said for his thievery. "They did a good job of helping me get the timing of the (opposing) pitchers down."
The Knights now hit the road for a three-game series with the Portland Pickles at Walker Stadium in Portland. Their next home game is Friday against Wenatchee.
"We have to trust the process" to return to form against the Pickles, Stancato said. "It was a tough game but we will go out and get it tomorrow. "