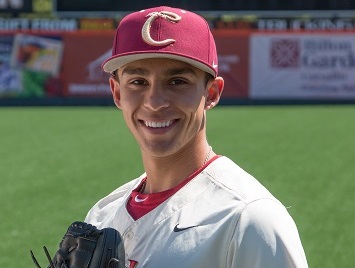 Brooks Hatch Blog: More Preseason All-American Honors for Madrigal
Happy Friday, everyone, from the world-wide headquarters (WWHQ) of the Corvallis Knights, your 2016-2017 West Coast League champions!
————–
Alum Nick Madrigal (pictured, above), our 2015 Most Outstanding Player, was named to D1Baseball.com's preseason All-American team on Tuesday. He was a first-team selection.
It's the second preseason honor for the Oregon State junior middle infielder. He was also named a first-team All-American by Collegiate Baseball in December.
Madrigal was a unanimous All-American in 2017 after being named the Pac-12 Conference's Player and Defensive Player of the Year. He hit .380 with four home runs and 40 RBIs in 2017, with 20 doubles, 16 steals and 27 walks to just 16 strikeouts.
Madrigal carries a .359 career batting average into 2018, with 31 doubles, seven triples, five home runs, 69 RBIs and 24 stolen bases.
Congrats to Nick, a first-team West Coast League all-star in 2015.
————–
Alum Cody Lenahan (2013) has signed a contract extension with the Lake Erie Crushers (Avon, Ohio) of the independent Frontier League. The University of Portland infielder hit .227 in 84 games in 2017, with 11 homers and 50 RBIs.
————–
Our 2018 season tickets are now on sale! For more details or to order your tickets online, please click here.
Tickets may also be purchased by calling us at 541-752-5656 or by visiting our office at 4th Street and Jefferson Avenue in downtown Corvallis. See you at the ballpark in 2018!
————–
That's all for today. Have a great weekend, and we will see you again on Tuesday.