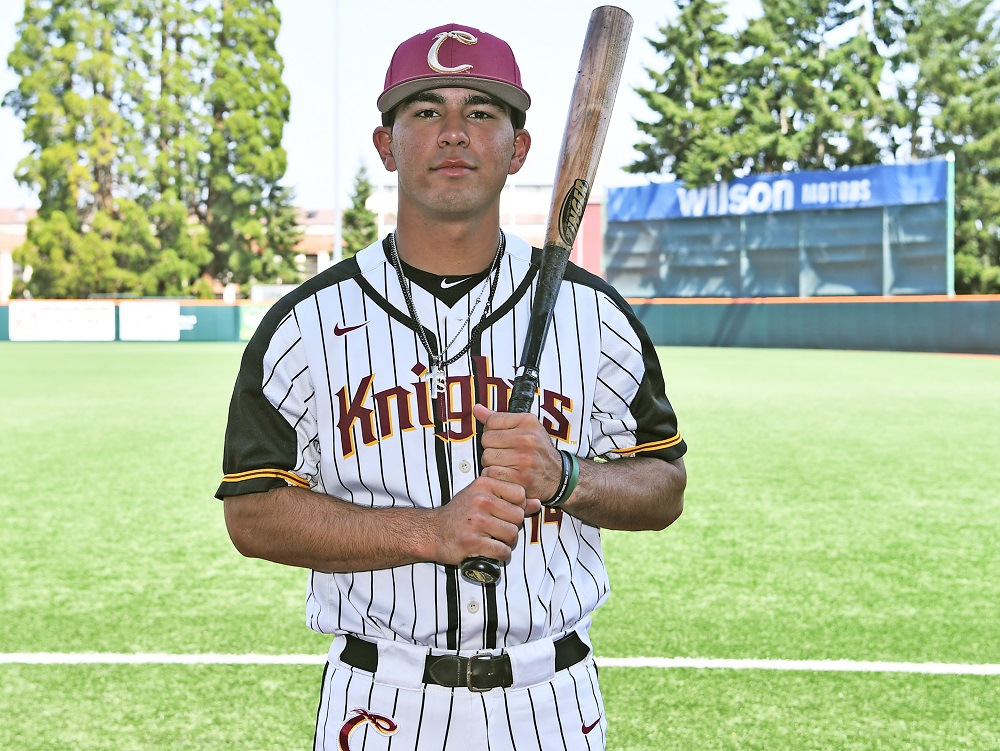 Bells walk-off Knights in the 12th, salvage the series finale with 5-4 win
Sunday, August 1, Bellingham, Wash. – The Bellingham Bells salvaged the series finale and snapped the Knights 9-game win streak with a thrilling 5-4 victory in 12 innings.
Bellingham was one strike away from a 4-3 win when pinch-hitter Kiko Romero of Central Arizona College (pictured) blasted a solo home run to tie things up in the 9th.
Southpaw reliever Colton Meyer of Linfield threw three scoreless innings of relief before running into trouble in the 12th. The Bells loaded the bases with no outs and won on a RBI single by Charlie Saum, off Meyer.
Corvallis collected 10 hits on the day, but could only push across four runs as the Bells defense was stingy from start to finish.
The Knights threatened in the top of 12, as Corvallis had runners at second and third with one out, but could not plate the go ahead run.
Four-year veteran Corvallis pitcher Connor Redmond of Montana State-Billings returned to league action for the first time since June 16th. He tossed a scoreless 7th. The Knights bullpen was stellar as Chase Walter of Cal Poly tossed three innings and only allowed one run while striking out 4 and Nate Mendoza of Cal State San Bernardino twirled a scoreless eighth-inning.
Offensively, Corvallis was led by Cal Poly's Taison Corio who went 3-for-6 with a double and RBI. Second baseman Jake Hoskins of Linn-Benton CC collected the Knights only other extra base hit with a lead-off double in the 5th, and scored on a Corio single.
With the loss, Corvallis drops to 30-9 in the WCL and 38-11 overall.
The Knights head home tonight, and will open a five-game home stand on Monday at Goss Stadium vs. the NW Star Nighthawks in a non-league contest. First pitch is set for 6:35 pm. Kaleb Kantola, a recent Lipscomb University commit, is the probable starter for Corvallis.