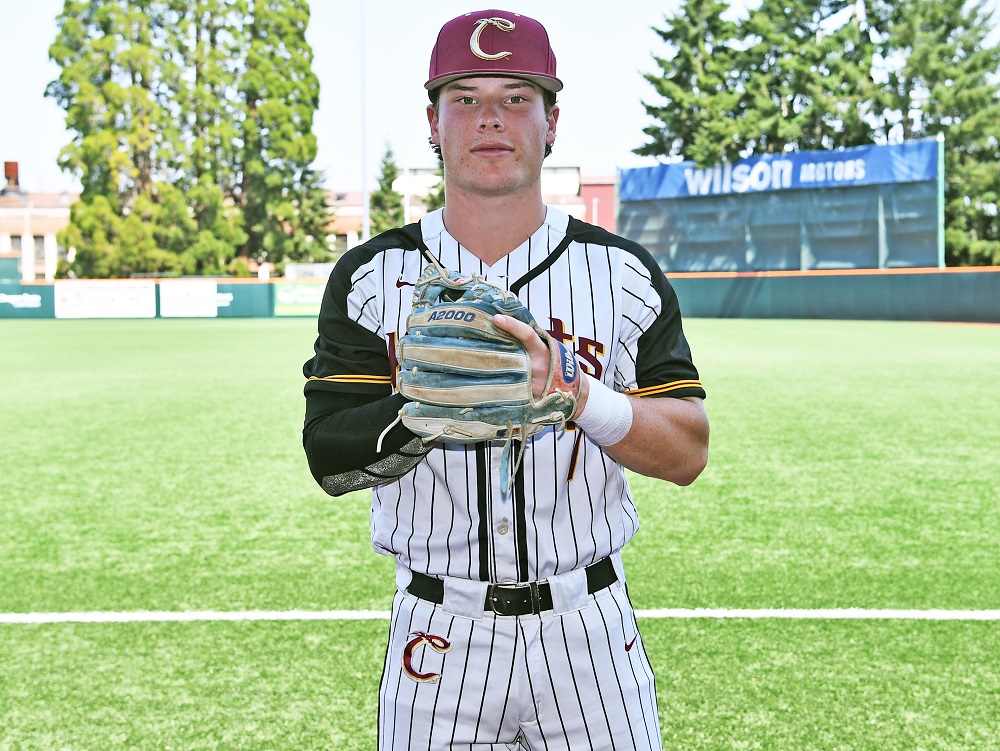 Bellingham Bells Salvage Series Finale With 8-4 Win Over Knights
Thursday, July 8, Corvallis, Ore. – Bellingham salvaged the finale of a three-game West Coast League series by defeating Corvallis 8-4 before a crowd of 1,092 at Goss Stadium.
Held hitless through four innings by Knights' starter Grant Taylor (Washington State), the Bells erupted for three hits and four runs in the fifth to build an insurmountable lead. The Knights drew within 4-2 with a two-spot in the fifth and got within 5-4 with two more runs in the eighth but could not quite pull even.
The loss snapped a six-game WCL and a seven-game overall winning streak for the Knights (20-7 WCL, 2-1 second half, 22-8 overall). Corvallis's last loss was June 30 at Bend.
Oregon State signee Travis Bazzana (pictured, above) had two singles, a run and an RBI to up his WCL-leading batting average to .388. He had six hits in the series.
Reliever Jason Vargas (Cal State Fullerton) was the most effective pitcher for the Knights, allowing one run and one hit over 3.1 innings. He fanned the first four batters he faced and had five strikeouts overall; Corvallis pitchers combined for 43 strikeouts in the series.
"Mostly it was just my fastball and slider," Vargas said. "I've been trying to get my confidence with both pitches. I was just pounding the zone and letting my pitches do their thing and it worked out for me."
Jake Harvey (Cal State Fullerton) had a two-run, two-out single in the eighth to trim Bellingham's advantage to 5-4. However, the Bells tacked on three insurance runs in the ninth and held on.
Kyler Stancato (WSU) singled, doubled, scored and drove in a run for the Knights. Nick Vogt (UC Santa Barbara), Kiko Romero (Central Arizona JC) and Taison Corio (Cal Poly) all doubled for Corvallis.
The Knights head to Wenatchee this weekend for a three-game set; the starting rotation has not been determined. They swept the AppleSox in Corvallis on June 25-27.
Corvallis returns to Goss Stadium on July 13-14 for a two-game nonleague series against Driveline Baseball of Kent, Wash. The next WCL home game is July 15 vs. Cowlitz.