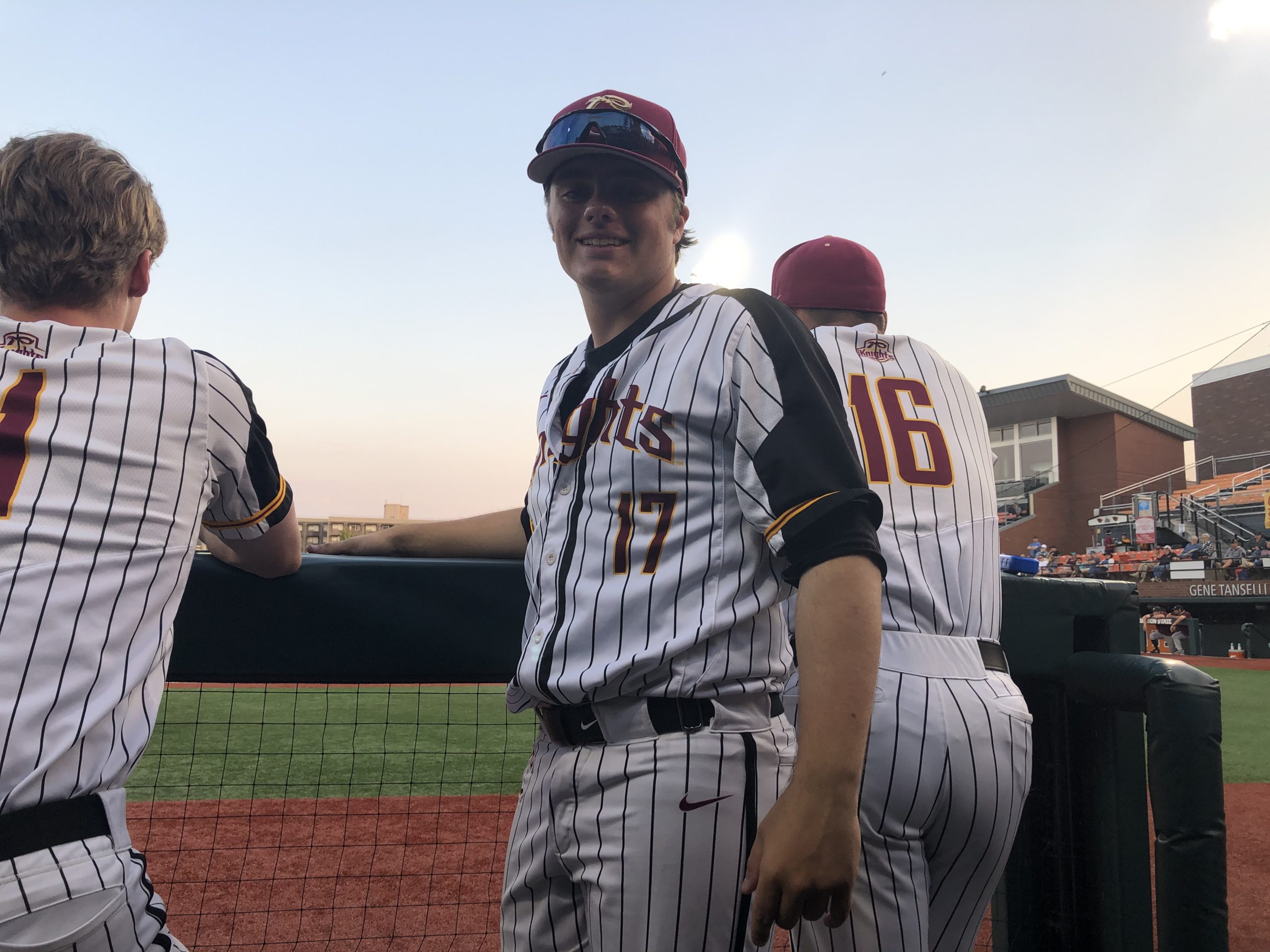 Wiese Shuts Down AppleSox, Earns Save in Series Opener
Friday, July 9, Wenatchee, Wash. – W plus W equaled a W for the Knights in a 5-3 victory over Wenatchee in the opener of their weekend West Coast League series at Paul Thomas Field.
Catcher Jacob Weiss (UOP) was 3-for-4 with two RBIs and George Fox reliever Sean Wiese (pictured, above) retired 12 straight AppleSox hitters to earn a four-inning save as the Knights (21-7 WCL, 3-1 second half, 23-8 overall) bounced back from a Thursday night loss to Bellingham.
First baseman Kiko Romero (Arizona Central JC) was 3-for-4 with a double and an RBI.  Nick Vogt (UC Santa Barbara) added three hits and a run; Travis Bazzana (Oregon State) singled, doubled and had an RBI and Kyler Stancato (Washington State) had two hits, an RBI and a run as Corvallis pounded out 14 hits.
Wiese relieved starter Ty Uber (Stanford) in the sixth inning, with runners at second and third with no outs. One run scored on a groundout to make it 4-3, but he escaped the inning without further damage and then set Wenatchee down in order in the final three innings for his second save.
Wiese has two saves, 10 scoreless innings and 10 strikeouts over his last three appearances, lowering his ERA from 5.94 to 3.71. He has allowed just two hits and one walk over that span.
Uber was touched for three runs and four hits in five innings, with five strikeouts, in the second consecutive strong outing for the incoming Stanford freshman. He held Ridgefield on three hits and one unearned run and had nine strikeouts with no walks over seven innings in a 5-2 victory on July 2.
That performance earned him WCL Pitcher of the Week honors, and locked up the first-half South Division title and automatic postseason berth for the Knights.
The series resumes at 6:35 p.m. Saturday and concludes at 5:35 p.m. Sunday at Paul Thomas Field.
The Knights are idle on Monday. They start a two-game nonleague home series against Driveline Baseball of Kent, Wash. on Tuesday, July 13. Tuesday's first pitch is 6:35 pm; Wednesday's game is a noon start. Corvallis heads to Longview, Wash. later that day as part of a home/away doubleheader to face the Cowlitz Black Bears in a nonleague affair. Cowlitz reciprocates with a trip to Goss Stadium on Thursday, July 15 in another nonleague contest; first pitch is 6:35 pm.