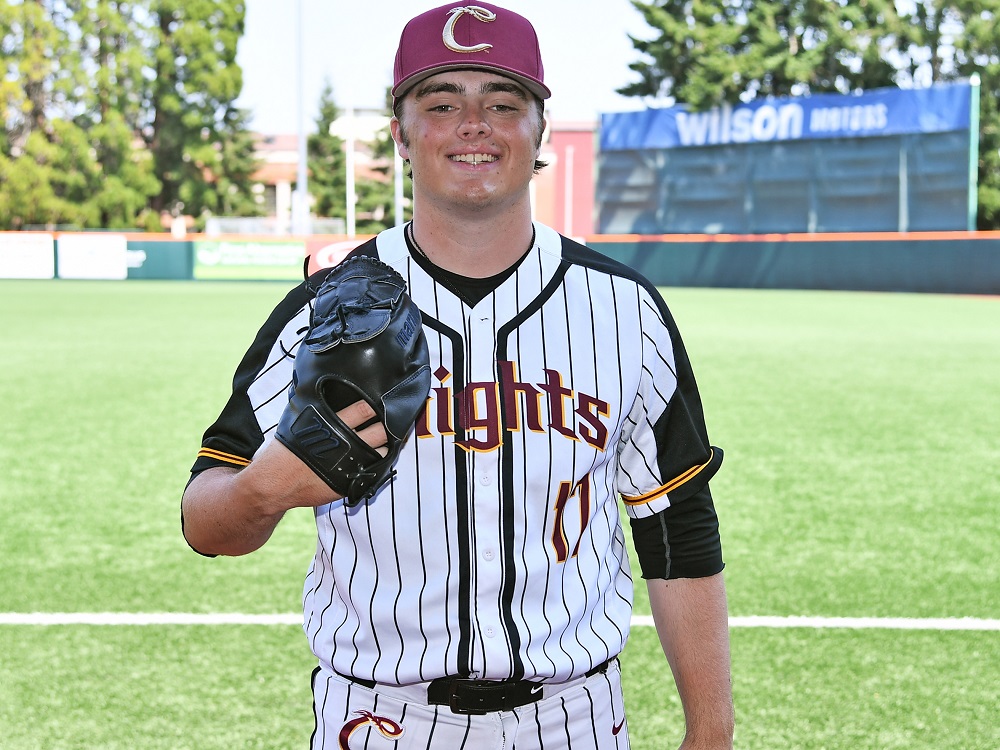 Wiese Sparkles in Relief Effort in 5-4 Comeback Win Over Bells
Tuesday, July 6, Corvallis, Ore. – Taison Corio's infield single with two outs in the 10th inning drove in the winning run and the Knights edged Bellingham 5-4 in the opener of their West Coast League series before a crowd of 1,301 at Goss Stadium.
Spencer Scott (Portland) was hit by a pitching leading off the 10th. He was sacrificed to second, moved to third on a groundout, and scored when Bellingham shortstop Ty Sanders gloved but couldn't hold onto Corio's (Cal Poly) hard shot up the middle. The entire team then chased Corio around the field in jubilant celebration.
The win gave the Knights (19-6 WCL, 1-0 second half, 21-7 overall) their sixth consecutive victory in all competition, and their second straight walkoff WCL home victory.
An outstanding relief effort by Sean Wiese  of George Fox (pictured, above) was pivotal. He entered in the sixth with the Knights trailing 4-2, and blanked the Bells on one hit over the next four innings to keep Corvallis within striking distance.
Wiese struck out six and faced just 13 hitters, one over the four-inning minimum. Only one ball was hit out of the infield.
"I just came in, trusted my stuff and attacked hitters," Wiese said. "My changeup was working, I got ahead of guys and got some confidence.
"It's funny I didn't throw the changeup much this spring. This summer that was a big focus for me."
Corvallis trailed 4-0 after four innings but drew within 4-2 in the fifth on RBIs by Tanner Smith (Oregon State) and Jake Harvey (Cal State Fullerton). They got within 4-3 on Nate Nankil's (Cal State Fullerton) RBI groundout in the eighth.
Corio walked to start the ninth. Riley Way (Lewis-Clark State) was safe on a bunt and Corio moved to third on a fielder's choice. He scored the tying run when Smith's two-out infield popper fell safely between Bellingham's first and second basemen.
Corvallis pitchers combined for 16 strikeouts. Corio was the lone Knight with two hits.
The series resumes at 6:35 p.m. Wednesday. The probable starting pitchers are San Jose State lefty Ethan Ross (0-1, 3.96) for the Knights, opposed by Bellevue CC righty Trevin Hope (0-0, 0.00) for the Bells.
The series finale is set for 6:35 p.m. Thursday. The projected starters are Washington State righty Grant Taylor (2-1, 4.19) for Corvallis, opposed by Corban righty Zack Simon (0-2, 2.87) for the Bells.
The Knights head to Wenatchee this weekend for a three-game set. They swept the AppleSox in Corvallis on June 25-27.