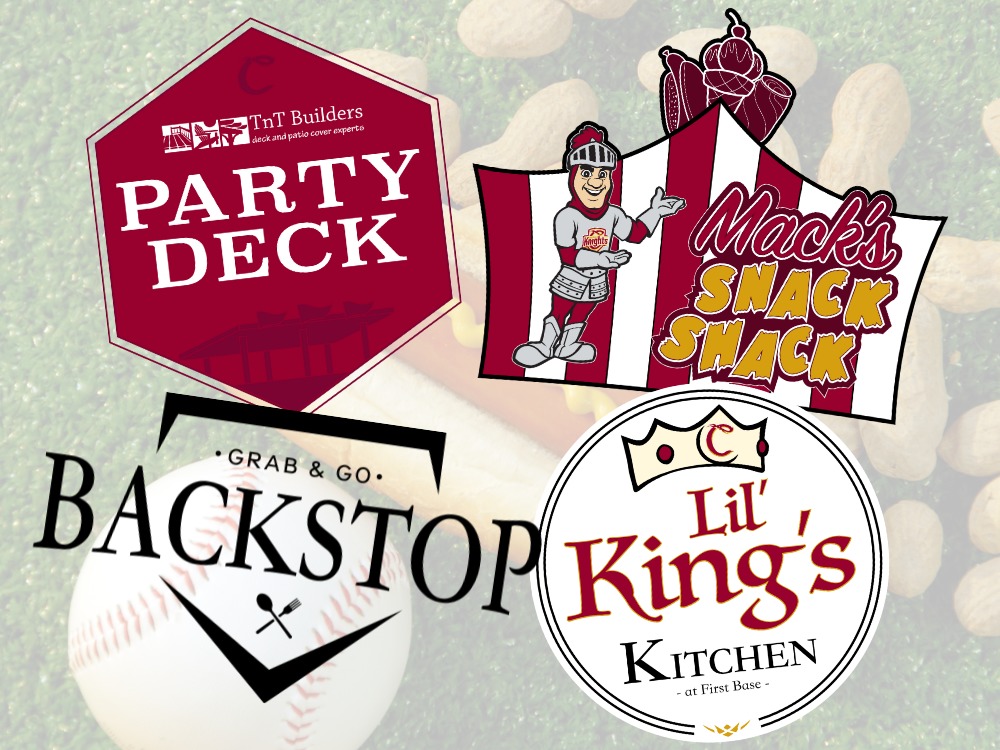 Mack's Snack Shack Coming Soon to Goss Stadium
Wednesday, May 31, Corvallis, Ore. – The Corvallis Knights have added another heavy hitter to an already-loaded food and beverage lineup for the 2023 West Coast League season.
A fourth concession outlet dubbed Mack's Snack Shack will debut near the TnT Builders Party Deck. Combined with an upgraded point-of-sales system throughout the ballpark, the Knights concessions experience will be bigger, faster, and better than ever as the Hometown Team celebrates its 16th season at Goss Stadium at Coleman Field.
"Mack's Snack Shack will have flavored popcorn, slushies, grab n' goes, those types of items," Hospitality Manager Colleen Woods said. "It will be located where the merchandise tent was formerly positioned, down the third-base line."
The other concession stands will be the Backstop at the main entrance; Lil' King's Kitchen down the first-base line, and an outlet on the TnT Builders Party Deck down the left-field line.
Top new items on this summer's menu are pulled-pork sandwiches and nachos stacked with pulled-pork, sour cream, onion, tomato and cheese.
"We are super excited to add those options, which we think will be popular," Woods said.
"We will also feature the Lil' King Dog, a 10-inch hot dog loaded with chili and cheese, named in honor of the popular, effervescent Knights mascot."
The team's popular beer bats, introduced in 2022, will also return.
One may be purchased for $20, refilled for $14, and used throughout the entire season.
Beers and ciders from Calapooia Brewing, Sky High, Long Timber Brewing, Block 15 and 2 Towns Ciderhouse will be available on tap or in cans, as will Coors Light.
Special nights throughout the summer include:
2 Towns Tuesday, featuring discounted pours of tasty ciders, set for June 27 (Springfield), July 18 (Kelowna) and July 25 (Yakima Valley).
Nocking Point Wine Wednesday, with discounted wine pours. Wine Wednesdays are set for July 12 (Springfield), July 19 (Kelowna) and July 26 (Yakima Valley).
Thirsty Thursdays, with discounted pours on tap beers. They are June 15 (Bend), June 22 (Gerding Builders Marketmen), June 29 (Springfield), July 20 (Kelowna) and July 27 (Yakima Valley).
Hot dogs, hamburgers, Cracker Jack, peanuts, chips, and other traditional, classic ballpark fare will also be available.
"For those with dietary restrictions we will have vegetarian and gluten-free chili," Woods said. "We'll offer vegan hot dogs, vegetarian hamburgers and gluten-free buns as well. And it's all available at very affordable prices."
To check out the full menus this summer at Goss Stadium, visit our Food & Beverage page.
The Knights begin their quest for a seventh-straight WCL championship at the Ridgefield Raptors this Friday. Their home opener is set for Thursday, June 15 against the Bend Elks.