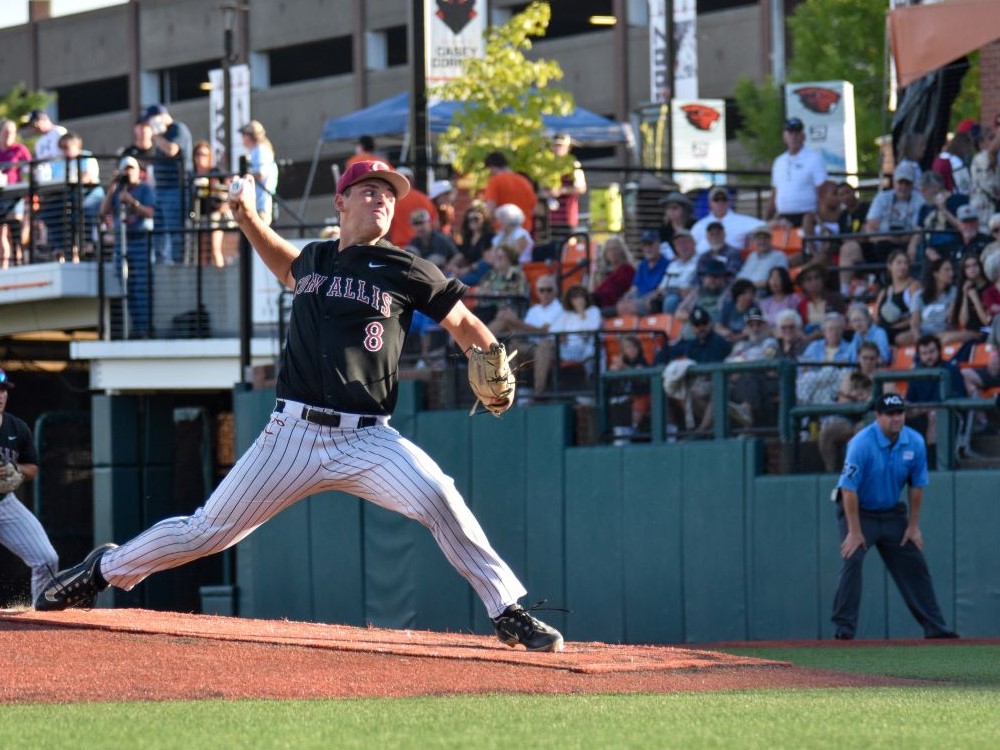 Knights win fifth straight, close in on second-half division title
Friday, August 4, Corvallis, Ore.  – Corvallis opened its final homestand of the summer by stopping Ridgefield 8-4 before a crowd of 1,938 on a steamy night at Goss Stadium.
The Knights (42-14, 38-14 WCL, 21-4 second half) won their fifth game in a row and remained in first place in the South Division's second-half playoff race, 1.5 games ahead of Cowlitz (20-6).
They reduced their magic number for clinching the second-half title to one. Each team has two games remaining; a Corvallis win or a Cowlitz loss give the Knights the title and home-field advantage in the first round of the upcoming playoffs.
The Knights have already clinched a berth in the WCL playoffs for the 16th consecutive season. They are the only WCL team to qualify for the playoffs in every season since the divisional format was introduced in 2007.
The matchups for the playoffs, which start on Tuesday, have yet to be determined. Ridgefield won the first-half title and secured the top seed.
Starter Kaden Segel (Portland, pictured above) continued his outstanding work since rejoining the Knights from the Coastal Plain League in early July. He spaced six singles and allowed one run over six innings, with five strikeouts, and earned Washington Park Advisors Player of the Game honors.
He also picked off the only Raptor he walked, and got a boost from right fielder Sam Stem (Gonzaga), who threw a runner out at home to end the third inning.
Segel is 4-0 with a 1.19 ERA and a save in six appearances, with 17 strikeouts and only six walks in 22.2 innings. He was a first-team all-WCL selection in 2022.
Max Debiec (Folsom Lake CC) followed Segel and retired all five Raptors he faced. Sean Wiese (Arizona Christian) retired the only Raptor he faced for his second save.
Stem and Tyler Quinn (Utah) drove in runs in the third to send the Knights ahead 2-1. An RBI double by JC Ng (Pomona-Pitzer) and Stem's sacrifice fly scored two more in the fifth for a 4-1 lead.
Corvallis parlayed five walks and two hits into four runs in the seventh to take a commanding lead at 8-1. A highlight was Quinn sprinting home to score all the way from second base on a passed ball.
The series continues at 7:15 p.m. Saturday with a Fireworks Night encounter pitting Ethan Ross (0-2, 4.00) of San Jose State for Corvallis against Brock Gillis (2-0, 0.69) of Portland.
Sunday's 1:05 p.m. regular-season finale has Jackson Van Eyk (0-0, 1.80) of Skagit Valley CC starting for the Knights against Camden Oram (3-0, 4.20) of Lower Columbia College for Ridgefield.