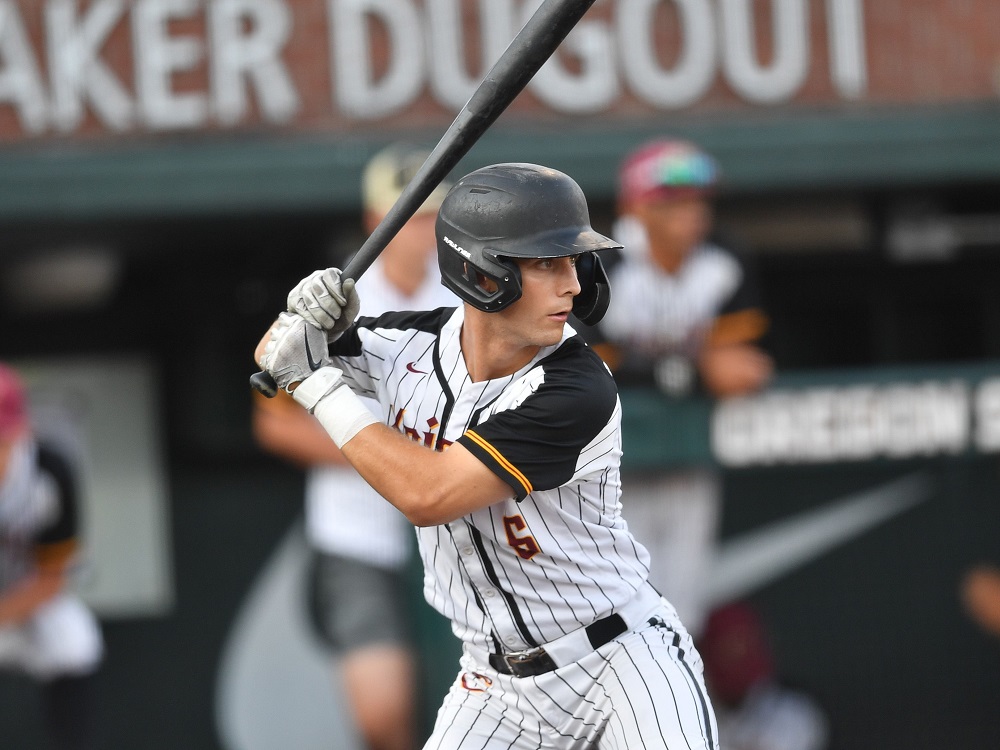 Knights stymie Pippins, stretch win streak to seven in a row
Friday, June 17, Corvallis, Ore.  – Infielders Spencer Scott and Kiko Romero each drove in three runs and the Knights extended their season-opening winning streak to seven games on Friday with a 6-3 victory over the Yakima Valley Pippins at Goss Stadium.
A returnee shortstop from the University of Portland, Scott (pictured, above) had an RBI single in the second inning,  a two-run triple in the third, and also scored twice. A returnee first baseman from Central Arizona who will play at Arizona in 2023, Romero knocked in single runs in the third, fourth and eighth innings.
An opening-night crowd of 1,382 saw the Knights (7-1 all, 7-0 WCL) defeat the Pippins for the fourth time this year, clinching the season-series between the West Coast League's 2021 Championship Series finalists. Corvallis still has not trailed in any game this season.
University of San Francisco righty Jesse Barron improved to 2-0 with his second gem of the young season. He allowed a leadoff double and then retired the next 15 Pippins in order, six by strikeout. He has allowed no runs, four hits and has 16 strikeouts in 10 innings in his two starts, both against the Pippins.
It was the second game in a row the Knights starter faced only 16 batters in five innings. Duke Brotherton (Washington State) was equally effective in a 9-0 win at Cowlitz on June 16.
Barron's five shutout innings extended an amazing streak of excellence for Knights starters. They have allowed just two earned runs in 33.2 combined innings in seven games, posting a microscopic 0.53 ERA. They have allowed no earned runs in six of seven starting appearances.
Lefty Sean Wiese (Hawaii) earned the save by retiring the final five Pippins in order. He allowed one inherited runner to score in the eighth on a sacrifice fly, trimming the Knights lead to 5-3, but retired the Pippins 1-2-3 in the ninth.
Left fielder Titus Dumitru (LBCC) had two hits and two runs, as did center fielder Jonah Advinclua (Redlands). Future Oregon Stater Ely kennel also had two hits from the DH position.
The series resumes at 7:05 p.m. Saturday. LBCC right-hander Kaden Segel (1-0, 0.00) is the Knights probable starter. Sunday's finale is set for 5:05 p.m., with Portland righty Joey Gartrell (0-0, 7.71) set to make his first start of the year.
The games between the 2021 WCL Championship Series opponents begin a nine-game homestand that also features three contests against Walla Walla (Tuesday-Thursday) and Bellingham (Friday-Sunday).