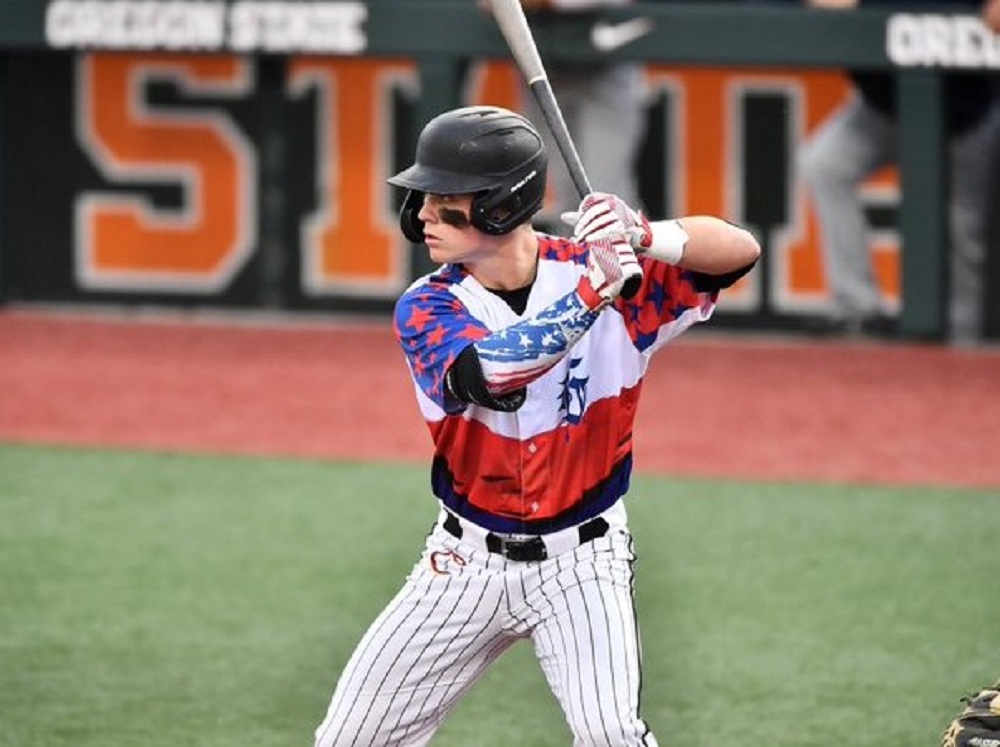 Briley Knight Returns to Team, Powers Corvallis to Sweep of Pippins
Thursday, August 5, Corvallis, Ore. – Briley Knight returned home in impressive fashion, leading Corvallis to a 5-4 win over Yakima Valley in a West Coast League game before a Goss Stadium crowd of 1,325.
A graduate of Crescent Valley High School in Corvallis who plays at the University of Portland, Knight (pictured, above) crushed a two-run homer in the fifth inning to send the Knights ahead 4-2. He then walked and scored the winning run in eighth inning, breaking a 4-4 deadlock to give the Knights a series sweep of the North Division's first-half champions.
Knight opened the eighth with a full-count walk after just missing a homer on a long foul ball on the first 3-2 pitch of the at-bat. He moved to second on a sacrifice and scampered home on an RBI single by Nate Nankil (Cal State Fullerton).
Corvallis (33-9 WCL, 15-3 second half, 42-11 overall) clinched home-field advantage throughout the upcoming playoffs. The Knights will have the league's top overall record, no matter what transpires in the final six games of the regular season. The divisional round of the playoffs starts on Aug. 14.
Knight finished 2-for-3 with two runs and two RBIs in his first game with the Knights since June 9. He hit .265 (5-19) with two homers and 10 RBIs in five games before heading to the Yarmouth-Dennis Red Sox in the Cape Cod League.
"I love it, it's great to be back," Knight said. "I told the team how lucky I feel to join them this late in the season, and to get ready for a postseason run to try to win another ring" to add to the ones he won in 2018 and 2019.
He now has three homers in six games. His fifth-inning shot came on a 2-2 pitch and landed deep in the right-field bleachers.
"I was just trying to be on-time" with his swing, he said. "My first at-bat (the pitcher) was throwing an elevated fastball and I wasn't getting my barrel to it. But I made an adjustment in my next at-bat and hit it out."
Knight was the WCL's Most Valuable Player in 2019, following his freshman season at the University of Utah. He had eight homers, 42 RBIs, and hit .357 to take second in the batting race while leading the Knights to their fourth straight championship.
He also led the WCL in on-base percentage (.460), slugging percentage (.621), total bases (113) and extra-base hits (29).
Relievers Chase Walter (Cal Poly) and Sean Wiese (George Fox) blanked the Pippins over the final 3.1 innings, allowing one hit and combining for seven strikeouts. Walter had six punch outs in 2.1 innings; Wiese had one in a 1-2-3 ninth.
Wiese earned his third save in his first appearance since July 17. First baseman Kiko Romero (Central Arizona JC), the hero of Wednesday's game, made a spectacular diving catch of a line drive for the final out, taking a potential double away from pinch-hitter Sam Olsson.
Jake Hoskins (Linn-Benton) singled, doubled and scored twice for the Knights. Travis Bazzana (Oregon State) extended his hitting streak to 19 games in WCL play with a fifth-inning RBI single.
The Knights home stand concludes at 7:05 p.m. Friday with a Fireworks Night game against the Ridgefield Raptors. The Knights play at Ridgefield on Saturday and Sunday.