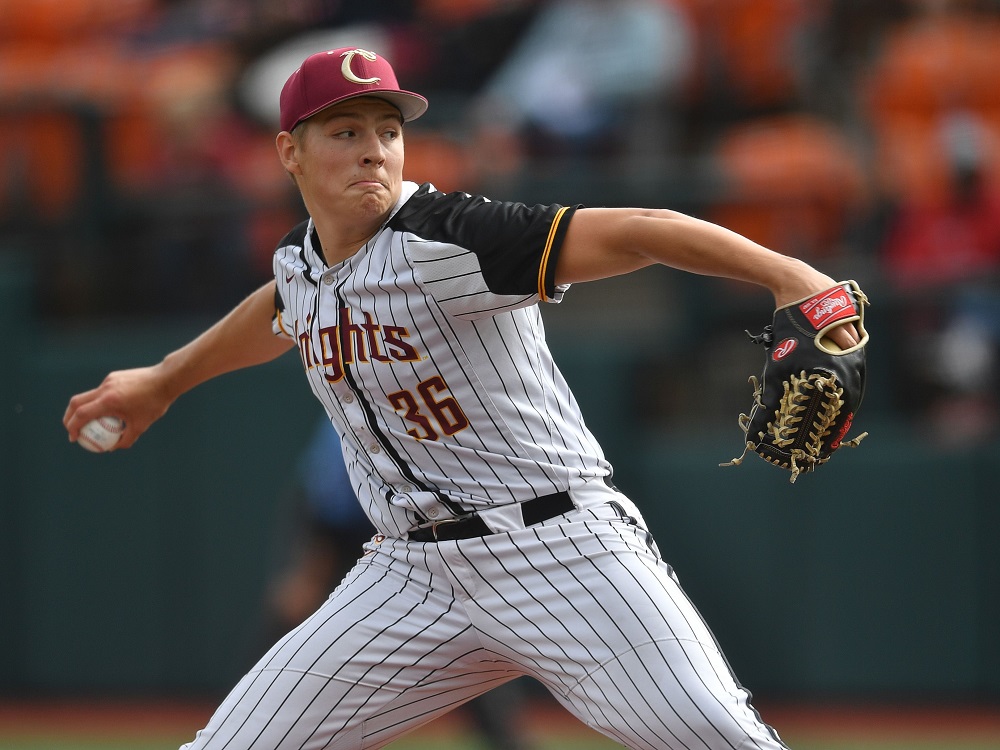 Knights break out the offense, top Lefties 11-1 in series opener
Friday, July 1, Corvallis, Ore.  – Corvallis scored early and often in blasting Port Angeles 11-0 before a crowd of 1,718 on a beautiful night at Goss Stadium.
The Knights (14-6 all, 14-5 WCL) erupted for five runs in the first inning, a rally capped by Ethan Loveless's (Portland) two-run single. Jonah Advincula (Redlands) had a two-run single to key a four-run third.
The Knights then added two more runs in the fifth to hit double figures for the second home game in a row. They convincingly broke out of the offensive funk that enveloped them in a 3-1 loss at Springfield on June 30.
Loveless finished with three RBIs, Advincula two. Tyler Quinn (Pacific U.) had two hits and two runs; Zander Darby (UCSB) doubled and scored three times.
Starter Joey Gartrell (Portland, pictured above) went four scoreless innings, lowering his ERA from 2.16 to 1.46. He allowed two hits, struck out three and walked one, but was not eligible for the decision because he did not go the required five innings.
Reliever Nathan DeSchryver (Gonzaga) booked two perfect innings and was credited with the victory. Kaleb Kantola (Lipscomb) added two shutout innings and Brady Maylett (Utah) closed it out in an efficient 2:11.
The series resumes at 6:35 p.m. Saturday. The projected starters are UCSB righty Matt Ager (0-1, 2.57) for the Knights, opposed by Texas Tech righty Zane Petty (0-1, 2.79).
It concludes at 7:15 p.m. Sunday with the Knights annual Oregon State Credit Union Fireworks Night.  Oregon State righty Ryan Brown (0-0, 4.50) is the probable starting pitcher for Corvallis, opposed by Andres Quinones (0-4, 5.14).
Former NFL player Golden Tate did not accompany the Lefties to Corvallis. He has broadcasting responsibilities and won't rejoin the team until July 8.