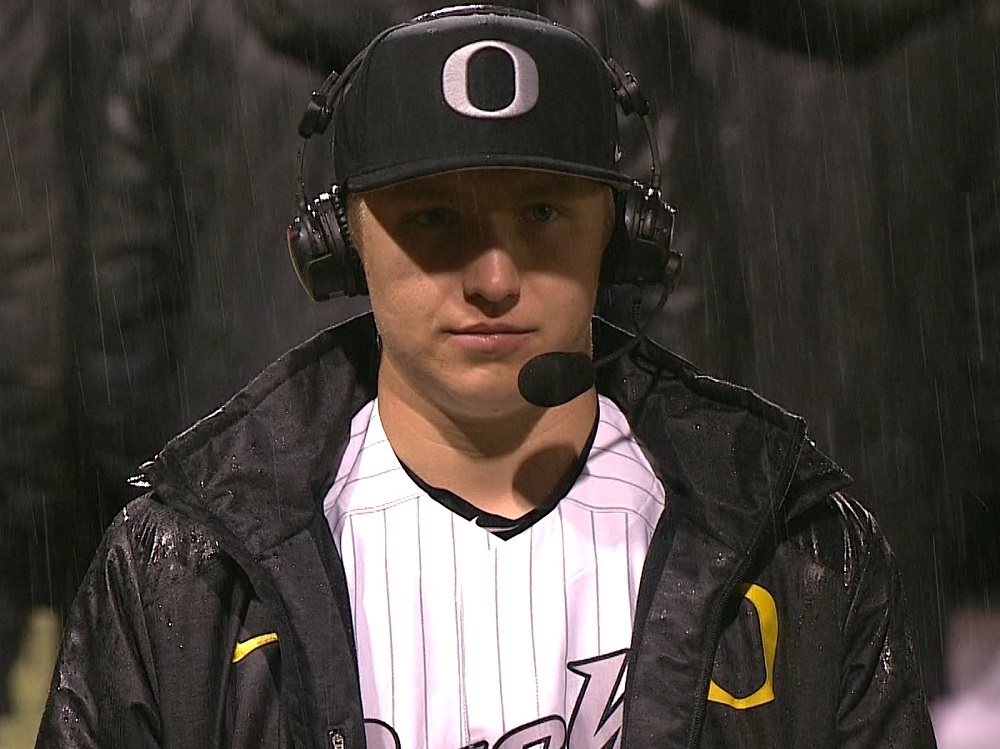 Knights Blanked at Home in Successive Games for First Time
CORVALLIS, Ore. – Victoria handed the Knights their second straight home shutout for the first time in franchise history, 4-0, before a crowd of 996 at Goss Stadium.
Corvallis (15-10 all, 14-10 WCL) managed just three hits in falling for the second night in a row to the HarbourCats (12-13). They took the final two games by a combined 9-0 score to win the series.
Pinch-hitter Gabe Matthews (pictured, Oregon), right fielder Jordan Qsar (Pepperdine) and left fielder Henry Cheney (Portland) had the only hits for Corvallis, all singles. Corvallis did not advance a runner past first base.
Victoria starter Jack Owen, a lefty from Auburn, gave up two hits in seven innings. He struck out seven and got seven fly-ball outs. Relievers Noah Prewitt (San Diego) and Indigo Diaz (Iowa Western) each added a scoreless inning.
Corvallis starter Jordan Horak (Portland) allowed two runs in five innings and lost for the first time in four decisions. He had three strikeouts.
The Knights have been shut out in consecutive road games three times since the WCL's inception as a two-division league in 2007: At Bellingham on July 23-24, 2007; at Bellingham in two games of a July 4, 2012 doubleheader, and at Bend on June 4-5, 2016.
The Knights host the Perth Heat Colts and the Mid-Valley Southpaws American Legion team on Thursday, starting at 5 p.m. Both games will be seven innings. Lefty Austin Crowson (1-0, 2.70) of Lane CC/Nevada-Reno will start Game 1; Pacific Lutheran lefty Cole Johnson (0-0, 6.00) will start Game 2.
The Knights then head to Gresham for a Friday-Sunday series. The scheduled starting pitcher (in order) are Cal Poly right-hander Connor Redmond (0-1, 4.76), UC Irvine righty Cole Spear (1-1, 3.11), and UC Riverside right-hander Trenton Toplikar (0-0, 6.35).