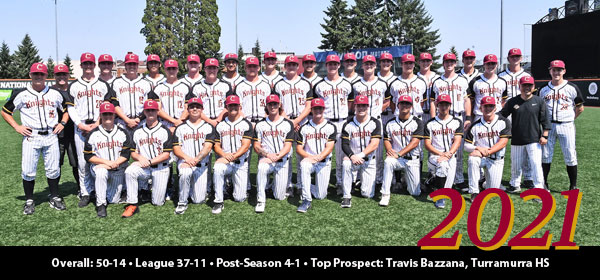 Corvallis celebrated its return to Goss Stadium following its canceled 2020 campaign (due to COVID-19 measures) by capturing its fifth straight West Coast League championship, winning the team's eighth WCL title. The Knights qualified for the postseason for a record 14th straight year by winning both the WCL South first-half and second-half titles. Corvallis swept Ridgefield in its divisional series before winning a decisive game three in the West Coast League Championship Series versus the Yakima Valley Pippins. The Knights lost game one of the WCLCS at Yakima, but bounced back with victories at Goss Stadium to beat a talented Pippins team. The Knights finished the regular season with a league-best 37 wins over a COVID shortened schedule (48 games were played instead of the regular 54). Following the season, Corvallis was named the National Summer Collegiate Team of the Year by Perfect Game for a second consecutive season. Baseball was back, but with lingering COVID restriction challenges, crowds were down, yet attendance numbers finished better than projected with total attendance coming in at 48,872 with the per game average at 1,357.
Knights capture first-half and second-half South titles and post the league's top overall record at 37-11.
Corvallis posts a 30-6 overall mark at Goss Stadium for a second consecutive season.
Incoming frosh second baseman Travis Bazzana of Oregon State earns WCL MVP honors and leads the league in hits with 81 and hitting at .429, setting a new WCL record for batting average. The sweet-swinging lefty from Sydney, Australia also topped the WCL in runs with 46, total bases with 112, triples with 5 and slugging percentage at .593.
Perfect Game and the WCL name Bazzana its #1-rated league prospect.
Three Knights earn first-team all-WCL honors including Bazzana, outfielder Nick Vogt of UC Santa Barbara and right-handed pitcher Ty Uber of Stanford.
Vogt leads Corvallis in stolen bases with 29 and overall the right-handed hitter batted .376 with 4 homers and 38 RBIs; Uber tops the Knights in innings pitched (52), ERA (2.60) and wins (5-0).
Skipper Brooke Knight earns his seventh WCL Coach of the Year honor.
Slick-fielding first baseman Kiko Romero of Central Arizona College shows off his left-handed power, leading the Knights in RBIs with 39 and home runs with 6.
Hard-throwing southpaw Ethan Ross of San Jose State emerges as the team ace, going 5-1 with a 2.80 ERA while striking out 60 over 45 innings pitched.
Connor Redmond of Montana State-Billings earns a fourth ring with the Knights, appearing in all four post-seasons, all Knights wins. He records a key save in WCLCS game two versus Yakima Valley, completing an incredible Corvallis career.
Knights pitching leads the league in strikeouts with 530, opponents batting average at .214 and saves with 20.
Closer Nate Mendoza of Cal State San Bernardino leads the WCL in relief points with 21 (3 wins, 5 saves).
Corvallis 37 regular-season wins increase its sixteen-year WCL total to 535, the most in the league; Wenatchee ranks second with 446.
Knights lead WCL in one-run wins, going 12-3 in one-run games.
WCL champions.
Perfect Game Summer Collegiate Team of the Year.