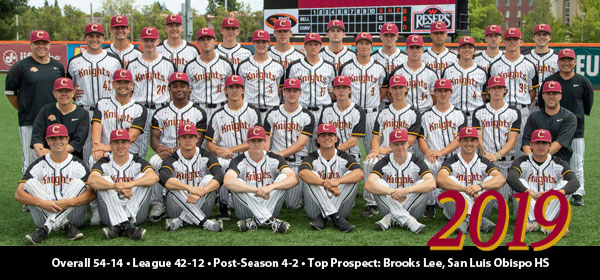 Corvallis celebrated the 30th season of Knights Baseball by capturing back-to-back-to-back-to-back West Coast League championships, winning the team's 7th WCL title. The Knights qualified for the postseason for a record 13th straight year by winning both the WCL South first half and second half. Corvallis played a decisive game three in both its playoff series, dropping the second game at home in the Divisional Series and West Coast League Championship Series. They beat Walla Walla two games to one, winning the finale at Goss Stadium to advance to their WCL-best 11th WCLCS. The Knights faced a scrappy Victoria club, a rematch of the 2017 WCLCS, in the finals. The HarbourCats stretched the series to a third game where Corvallis put an exclamation point to its best summer ever with a resounding 11-1 victory. The Knights finished the regular season with a league record 42 wins that featured a franchise record tying 18-game overall win streak.  The 2019 Corvallis squad also tied a club record for 54 wins overall and was named the Summer Collegiate Team of the Year by Perfect Game.  The crowds at Goss Stadium were the best, as the Knights set new club marks in total attendance – nearly drawing 60,000 fans at 59,372 – and per game average at 1,649.
Knights capture first-half and second-half South titles with identical 21-6 marks in each half, and post the league's top overall record at 42-12.
Corvallis's 42 regular-season wins set a new WCL benchmark for victories.
Knights go 23-4 at home during the regular season, the best home mark in the league, and finish 30-6 overall at Goss Stadium, including playoffs (2-2) and nonconference games (5-0); Knights 19-8 WCL regular-season road record ties for the league's best mark with Victoria.

Corvallis shortstop Brooks Lee of San Luis Obispo High School earns Top Prospect honors at the WCL All-Star Game as voted on by MLB scouts; and the future Cal Poly Mustang is also the league's pick for its Top Prospect honor and Perfect Game's selection for the West Coast League's Top Prospect.

Eight Knights earn first-team all-WCL honors including Lee, outfielders Jake Holcroft of Portland and Briley Knight of Utah, third baseman Andy Atwood of Texas Rio Grande Valley, utility man Michael Currialle (UCLA commit), second baseman Jake Harvey of Oregon State and pitchers Tevita Gerber of Dixie State and William Kempner (Gonzaga commit).
Corvallis sweeps the league's annual awards as Briley Knight is named Most Valuable Player, Tevita Gerber Pitcher of the Year and Brooke Knight Coach of the Year; Brooke's sixth WCL Coach of the Year honor.
Jake Holcroft of Portland captures the league's batting crown with a .368 average; Holcroft is only the second Knight to win a WCL batting title and the first since Taylor Ard did it in 2009.
Holcroft sets new league marks in hits with 82 and at bats with 223; and the sweet swinging left-handed hitter also sets new Knights' records in overall at bats with 282, hits with 102 and runs scored with 66.
Andy Atwood of Texas Rio Grande Valley leads the league in triples with 7 and games played with 54, and ties for the league lead in runs with Holcroft with 51; Atwood's 8 overall triples sets a new franchise single-season mark.
Briley Knight of Utah leads the league in OBP (.460), slugging percentage (.621), total bases with 113, extra base hits with 29 and ties for the league lead in doubles with 18; and is second in the WCL in RBIs with 42.
WCL Pitcher of the Year Tevita Gerber of Dixie State sets a new Knights' single-season overall wins record with 9.
First baseman Trace Tammaro of Portland establishes a new club single-season walks mark with 43.
Seven Knights are selected to participate in the WCL All-Star Game at Vince Genna Stadium in Bend, including position players Atwood, Curialle, Holcroft, Knight, Lee, Zack Moeller of Utah and pitcher Tim Josten of Cal State Fullerton.

Junior-to-be starting pitcher Jackson Arnsdorf of Corban posts a team low ERA of 1.85 and earns second-team all-WCL honors.
Knights' pitchers post a staff ERA of 2.93, lowest in the league; and allow the least WCL homers with 17, hits with 393 and lowest opponents batting average at .223.
Closer Connor Knutson of Portland leads the Knights in overall saves with 8, and records 6 league saves as the Corvallis bullpen earns a WCL-high 20 saves.
Corvallis 42 regular-season wins increase its fifteen-year WCL total to 496, the most in the league; Wenatchee ranks second with 427.
WCL champions.
Perfect Game Summer Collegiate Team of the Year.