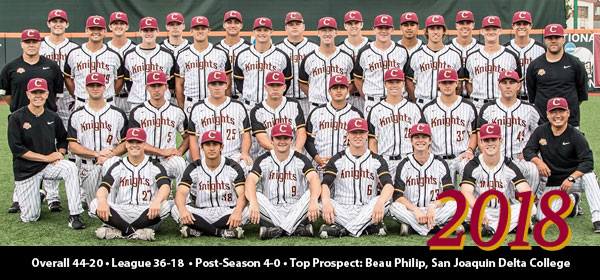 Corvallis won its 6th WCL title by pulling off an unprecendented three-peat, sweeping through the post-season beating the Portland Pickles in a hard fought Divisional Series and Kelowna Falcons in the West Coast League Championship Series. The Knights qualified for the postseason for a record 12th straight year earning a berth by capturing the WCL South second half. Corvallis beat the Pickles in two thrilling games to advance to their WCL-best 10th WCLCS where they faced Kelowna, a founding WCL member. The Knights swept the Falcons to secure a three-peat. Total attendance for the season at Goss Stadium was 48,239.
Knights capture the second-half WCL South title with a 20-7 mark.
Covallis wins 26 home games going 21-6 in WCL play at Goss Stadium, including going 2-0 in the playoffs and 3-1-1 in nonconference games.

Knights MVP Chandler Anderson of University of Utah earns second-team all-WCL honors; and leads the league in at bats (220), hits (70), games played (54), total bases (101) and doubles (16).
Corvallis slick-fielding shortstop Beau Philip of San Joaquin Delta College earns second-team all-WCL honors; the future Oregon State Beaver is also named the #8 WCL prospect by Perfect Game and earns WCL Player of the Week honors for Aug. 13-19

Science, Engineering & Art Day game draws a new record opening day crowd of 3,581 in its annual non-conference contest with the Portland Sea Dogs; Sea Dogs break Knights 50-game non-conference win streak.
Seven Knights are selected to participate in the WCL All-Star Game at Civic Field in Port Angeles including position players Chad Anderson of Utah, Cole Hamilton of Linn-Benton CC, Cody Hawken of Portland, Chad Stevens of Portland; and pitchers Landen Bourassa of San Francisco, Eli Morse of Portland and Daniel Slominski of San Francisco; Hawken represents Corvallis in the splashdown Home Run Derby and advances to finals nearly capturing the derby title in overtime.

Corvallis ace Landen Bourassa earns WCL Pitcher of the Year honors; and leads the league in ERA (1.96) and wins (5).
Bourassa, outfielder Cody Hawken and catcher Cole Hamilton earns first-team all-WCL honors.

Knights lead the league in doubles with 101, and ties Kelowna for the league's top batting average (.287).

Thirteen Knights alums appear in Major League Baseball games in 2018.
Corvallis 36 league regular-season wins increase its fourteen-year WCL total to 456, the most in the league; Wenatchee ranks second with 398.
WCL champions.