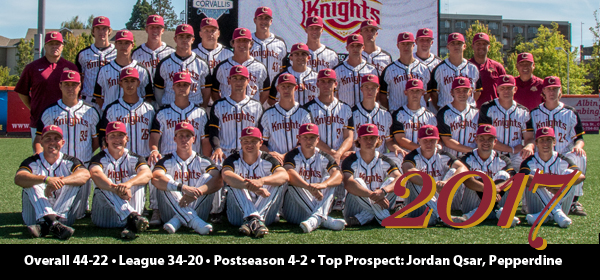 Corvallis repeated for the first time, winning the team's 5th WCL title. The Knights qualified for the postseason for a record 11th straight year by winning both the WCL South first half and second half. Corvallis had to stave off elimination in both its playoff series, dropping the first game in both the Divisional Series and West Coast League Championship Series. They beat Yakima Valley two games to one, closing out the series with two wins at Goss Stadium to advance to their WCL-best 9th WCLCS. The Knights faced a tough Victoria team that won the opener on a walk-off before a sold out crowd at Royal Athletic Park, 5-4. Again, on the brink of postseason elimination, the Knights would storm back and repeat as WCL champions by taking the final two games of the series at the friendly confines of OSU's Goss Stadium. Summer attendance at Goss was outstanding, as the Knights ranked second in WCL attendance and once again set a new franchise total attendance mark, drawing a record 54,795 fans in 2017.
Knights capture first-half and second-half South titles with 17-10 marks in each half, and post the league's top overall record at 34-20.
Covallis wins 26 home games going 20-11 in WCL play at Goss Stadium, including playoffs, and 6-0 in nonconference games; Knights post league best regular-season 18-9 road record
Knights outfielder/pitcher Jordan Qsar of Pepperdine earns Top Prospect honors at the WCL All-Star Game as voted on by MLB scouts; and Qsar also earns first-team all-WCL honors and is recognized as the WCL's #1 Prospect by Perfect Game.
Closer and three-year Knight Chase Kaplan of Kansas leads team in saves with 6, finishes 4th in the WCL in relief pitcher points with 22, saves the WCL All-Star Game, earns first-team all-WCL honors and rates as the #7 and #10 WCL prospect by Perfect Game and Baseball America.
Science, Engineering & Art Day game draws a record opening day crowd of 3,409 in its annual non-conference contest with the Portland Sea Dogs.
Knights earns Corvallis Business of the Year honors in January at the Corvallis Chamber of Commerce Celebrate Corvallis Awards.
Corvallis hits a wood-bat, team-record 48 home runs, led by a single-season, wood-bat record of 14 homers by Jordan Qsar.
Infielder Matt Kelly of University of Portland leads the Knights in five key offensive categories: at bats (212), hits (64), runs (51), stolen bases (17) and triples (3).
Nevada-Reno's Dillan Shrum hits an overall team-leading .315 and bangs out 14 doubles, blasts 7 home runs and collects 33 RBIs while playing a solid first base.
Corvallis entire three-game series at Wenatchee gets smoked out; two games are rescheduled at Goss Stadium and the regular-season is extended a day for the Knights as they travel to Wenatchee to play a make-up game on Monday, August 7. In an oddity, Wenatchee records a walk-off victory with a game-winning homer at Goss (as the home team) and Corvallis routs the AppleSox 12-1 at Paul Thomas Sr. Field on the final day of the regular season.
Eight Knights are selected to participate in the WCL All-Star Game at Yakima County Stadium, including position players Matt Kelly of Portland, Zak Taylor of Oregon State and Jordan Qsar of Pepperdine; and pitchers Louis Crow of San Diego, Cason Cunningham of Linfield, Dakota Donovan of Oregon State, Tanner Howell of Dixie State and Chase Kaplan of Kansas.
Senior-to-be southpaw Jordan Horak of University of Portland leads the Knights in wins (6-1), innings pitched (44 2/3) and ERA (3.43).
Trenton Toplikar of UC Riverside earns WCL Pitcher of the Week honors for his outstanding postseason performances, as the right-hander made two playoff starts, pitching 7 solid innings versus both Yakima Valley and Victoria, earning two wins while posting a 1.93 ERA.
Thirteen Knights alums appear in Major League Baseball games in 2017.
Corvallis 34 league regular-season wins increase its thirteen-year WCL total to 420, the most in the league. Wenatchee ranks second with 372.
WCL champions.