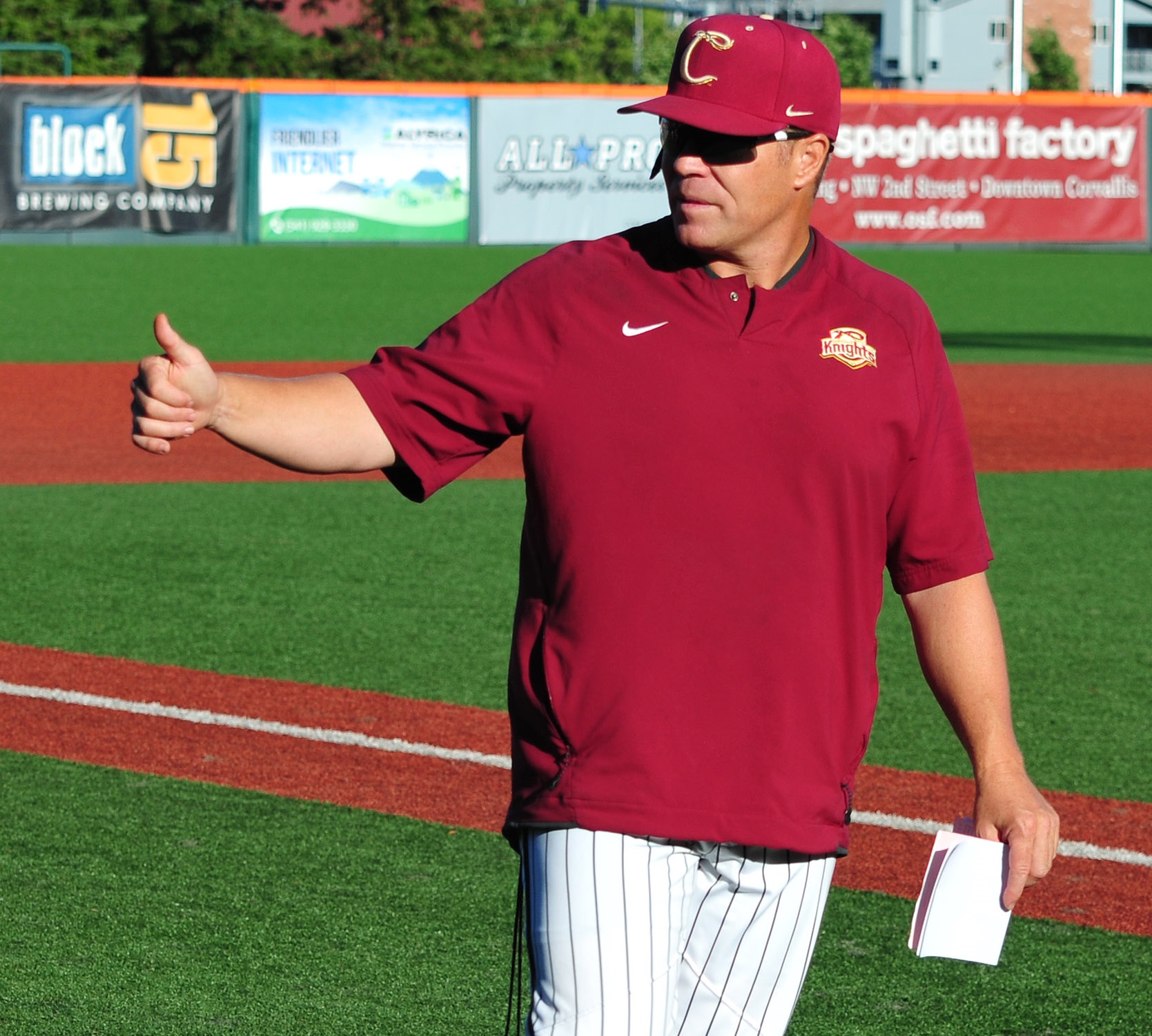 Coaches Bio:
The most successful head coach in West Coast League history, Brooke has skippered the Knights to six WCL championships in his 11-year tenure at the helm. He captured his first title as a rookie head coach in 2008, and added subsequent crowns in 2011, 2013, 2016, 2017 and 2018.
He also directed the Knights to seven consecutive West/South Division regular-season titles from 2008-14, and to South Division regular-season first-half titles in 2016 and 2017 and a second-half title in 2017 and 2018. The Knights have advanced to the WCL Championship Series nine times in his 11-year tenure, and have qualified for the playoffs every season.
Brooke earned WCL Coast League Coach of the Year honors in 2008, 2009, 2011, 2013 and 2017. His 10-year record is 509-233 overall; 409-215 in WCL games. The Knights won the WCL's Jim Dietz Sportsmanship Award in 2008, and shared it with Wenatchee in 2016.
Brooke will mark his 12th season as the Knights skipper in 2019. He played college baseball at Linfield, Oregon State and at Western Oregon, and for the Knights during the summers of 1991, 1992 and 1994.
No relation to the Knight family, Brooke played professionally in the Milwaukee Brewers and Pittsburgh Pirates organizations. Brooke also played football at Linfield and OSU and played and coached baseball professionally in Australia.
Brooke coached the Perth Heat to back-to-back titles in 2011 and 2012 in the MLB-funded Australian Baseball League. After a season off, he returned to coach the Adelaide Bite in 2013-14 and in 2014-15. The Bite won the 2015 regular-season title before losing to Perth in the championship finals.
He also assisted legendary Corvallis Richey's Market American Legion coach Dick McClain for six seasons, and scouted in the San Diego area for the Montreal Expos (2001) and the Florida Marlins (2002-2003).
Brooke is a native of Corvallis and a graduate of Crescent Valley High School and Western Oregon. The CEO of Knight Financial Home Loans, he lives in Corvallis where his son, University of Utah and Corvallis Knights catcher Briley Knight, was a baseball and football standout at Crescent Valley.